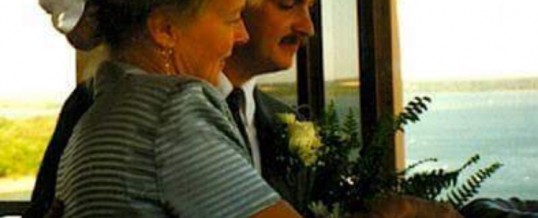 I first noticed her when she was standing about fourth in line.
I was working in the radio business at the time, and the Dallas Cowboys were headed to the Super Bowl. That should give you an idea of how long ago this story takes place.
The radio station was giving away a trip for two to the game, all expenses paid. We went to different advertiser's locations and set up registration booths for the drawing. She was trying to win the trip.
She made her way to the front of the line.
"Hello," I said.
"Hello," she responded.
"We've met," I said. "Yes, we have," she answered.
I began to guess where we'd met. Was it church? No, it wasn't, she said.
"We used to work together," was her response.
We had. I had worked days and she worked nights. We'd met once.
She remembered. I didn't.
In all fairness, I was married to someone else at the time. I wasn't supposed to notice her.
But, obviously, in the back of my mind, I had.
Now single, I was completely free to notice her.
And I did.
Two weeks went by. She came by more and more of the registration sites to sign up to see Troy Aikman and the boys win the Lombardi Trophy.
I kept noticing her.
I hung out with one particular friend of mine almost daily back then. I repeatedly mentioned this lady who had caught my eye and that I really wanted to call her for a date, but I was afraid she'd turn me down.
Finally, sick of hearing me talk about her, my friend told me to either ask her out, or stop talking about her.
She still worked nights at the same place where we'd worked together. So, one morning about six, I called and asked her out.
There was silence on the other end of the line. My mind went to the sound of the old WWII bombers being shot down and crashing to earth.
She broke the silence.
"Alright," she said. "I accept."
"Where would you like to go?" I asked.
From there, she selected a place to have dinner. Nothing fancy, but nice.
Over that evening, we talked at length. She discussed where she'd been in life and where she'd like to go next. So did I.
I dropped her off at home and went back to my apartment.
I knew then.
I asked her out again. And again. We became inseparable. We went to concerts, we played darts, we sat on the back porch and just talked.
It was a With Six You Get Eggroll kind of thing. Her kids, my kids, new in-laws, new friends. But, it was good.
No, it was great. It still is.
Sure, there have been some hiccups (mostly my hiccups), but we are happy.
And isn't that really all that any of us want? To be happy?
God places gifts in our lives at the time of his choosing. I spent years not being happy, only to be rewarded with the most splendid happiness. I just had to wait.
Life is funny. Just as you think nothing is going your way, suddenly, everything seems to be.
And for the last 20 years, it has continued to.
Happy Anniversary, Honey. You didn't win that trip to the Super Bowl, but I'm sure glad that you tried.
©2016 John Moore
To read additional blogs, visit johnmoore.net/blog