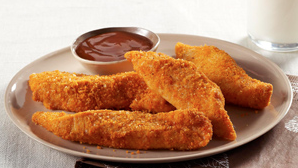 Who's in charge of choosing and naming the food?
Recently during a night out at dinner, I noticed food names on the menu, which I normally think nothing of, but the more I thought about them, the weirder they sounded.
This, in turn, made me think of foods which shouldn't even be food.
Some food names may be effective in selling the product, but they can also be downright creepy. And some things just shouldn't be eaten.
Chicken fingers. Somehow, this menu item, normally ...
Continue Reading →