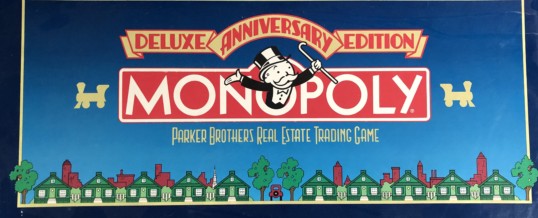 One of the biggest mistakes you could make when I was growing up was to tell your parents that you were bored.
The minute you uttered those words, you knew that the next several hours would be filled with manual labor.
Growing up in a world with just three TV channels, my sister, cousins, friends and I had to find ways to amuse ourselves. Oftentimes, we relied on the contents of a stack of boxes that sat inside a bookcase.
Those boxes contained puzzles and board games, any of which were preferable to the bored games that parents gave you to play – raking leaves, mowing or splitting wood.
My mother's mom loved jigsaw puzzles. The grandchildren sat with her for many hours helping put together puzzles that depicted churches in a field, or other calming scenes that reinforced and mirrored our family's beliefs and values.
But, that was decades ago.
Being part of the first video game generation in the 80s, my kids held little to no interest in puzzles or board games.
Once either of my sons started playing Mario Brothers or Duck Hunt, they could go without food, water or air for several days straight.
So, when my wife recently returned from a two-week trip to visit the grandchildren, she mentioned a couple of things about her visit that got my attention.
In addition to discussing the meals the kids like, sports they play, and music lessons, she also brought up two activities that both surprised me and made me nostalgic – puzzles and board games.
It would seem that both are a regular part of our grandchildren's routines. And that makes me happy.
The twin boys are seven, and our granddaughter is nine. Not only do they like puzzles and board games, they like ones that are difficult.
Some of the puzzles were up to 500 pieces and the pictures are complicated to assemble. One had lots of cats of different colors. Calicos, black, and others were all mixed in.
I'm not sure that I would have the patience to do a puzzle that complicated.
The interesting thing is that they all can sit down together and work on these puzzles, and they do it once or twice a day.
Same story with board games. The ones they prefer aren't the same ones that I played when I was seven or nine.
I played Candy Land, Mouse Trap, and Connect Four. They play Katan, Risk, and Monopoly.
I was playing games that helped me learn to count. The grandkids are obviously on a fast track to world domination.
After hearing about the puzzles and games from my wife, I decided to take a look online to see if our grandchildren are unique or if puzzles and board games are making a comeback.
From what I found on what my neighbor calls, "The University of Google," they are making a comeback.
The website MarketWatch.com published an article late last year that said the global jigsaw puzzle market was valued at $9.1 billion in 2017, and is scheduled to grow more than 15% between 2018 and 2025.
The same site published a recent article, which indicates that board games are also on track to see significant growth.
Why?
It may be (and this is just me speculating) that after years of young people checking out of mankind and living in the land of Donkey Kong and Tetris, and people of all ages walking around today with their head buried in their cell phone, they don't want the same thing to happen to their kids.
And, board games and puzzles also help deliver something that most of us crave – human interaction.
There are restaurants and bars popping up that offer areas for board game participation. What a great idea. Have a beer and a burger while challenging a complete stranger to a game.
Some businesses now offer games in their break room as a way to promote team building.
But, I believe the best part of a resurgence in puzzles and board games is that they both bring back something that was virtually lost over the years – family time. Let's face it, it's time for all of us to pick up where the Waltons left off and have more real face time and less iPhone FaceTime.
So, if the trend toward people interacting with each other – in person – while enjoying some fun and mental stimulation continues – that's a good thing.
And it appears that the pieces are starting to fit.
©2019 John Moore
John's book, Write of Passage: A Southerner's View of Then and Now, is available on Amazon and Barnes and Noble. You can reach John through his website at www.TheCountryWriter.com.