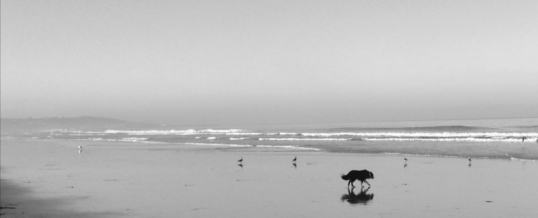 Photo credit: DanielJHalePhotography.com.
Columnist John Moore's friend Daniel's dog Kirby, in a photo taken in August 2014 on Pacific Beach. San Diego, California.
The price you pay when you lose a beloved animal is so steep that every time I lose one, I always say, "Never again."
I've written about this topic before, but after following the adventures of a friend of mine's dog on Facebook for a number of years, the news of the pup's passing brought a tear and the need for an homage.
When you lose a pet, the same thing happens repeatedly as time passes. The pain fades as their physical presence becomes part of the past, but they leave behind joy, and memories of complete dedication and unquestioned love.
I've often said that it's easier to lose some people than it is a pet. People have questioned my sanity for making that comment. But, that's OK. Maybe they're right.
Maybe giving so much of my heart and soul to an animal is nuts. Honestly, I've trusted a dog or a cat with my deepest feelings far more often than people.
I believe that one of the best gifts God gives each of us is the opportunity to welcome a pet into our family. There are those who never do – often due to allergies, but sometimes by choice. I respect their right to choose not to have a pet, but I so wish that I could help them see the pure joy they are missing. The pure joy that only a pet can give.
A pet never questions your motives. They're supportive when you've made a mistake or poor choices. A pet will give you a hug – no questions asked.
Most importantly, a pet doesn't pass judgment or say, "I told you so."
A number of years ago, a friend with whom I attended high school stopped at a Dairy Queen in Buffalo, Texas. He left with a food order and a black and white collie mix.
Little did the pup know that he was embarking on a life which any other dog – or human for that matter – would be envious.
My high school buddy is a writer, photographer, and world traveler. For the next decade, Daniel and his new adopted friend 'Kirby', made their way to wherever their Airstream took them.
I always enjoyed the photos of Kirby standing on a beach, looking intently at something or running from a field toward Daniel and his camera.
When Daniel posted that Kirby had passed, all of the memories of losing my pets came flooding back. And I heard the words I had always said – "Never again."
But I remembered the joy, love, and companionship that always outweighed the loss. It's why after losing a number of pets over the years, my wife and I eventually give our hearts to other companions. Currently, we have a cat named "Cola" and a peacock named "Fred."
The answer to the question is, "No," the cost of losing a pet isn't too much. If anything, we owe the animal a debt of gratitude when they leave us.
I forget who said this, but it's true: An animal is just part of our life, but we are all of theirs.
I'm sorry, Daniel. I know it hurts. I also know Kirby loved you. He would have told you how much if he could talk. But I'm guessing he didn't have to. You always knew.
©2020 John Moore
John's book, Write of Passage: A Southerner's View of Then and Now, and his new book, Write of Passage Volume II, are available on Amazon and on John's website at www.TheCountryWriter.com.