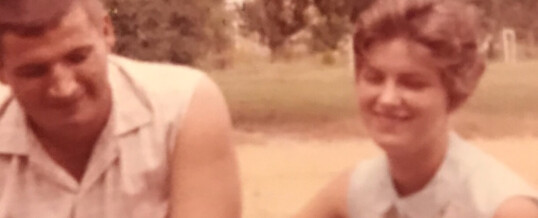 Our grandparents had it figured out. They lived life on their terms.
Today, we live life on society's terms. And the evidence that we regret it is all around.
The first bit of proof that my grandfather and grandmother had control of how their day would go is the fact that they had no alarm clock.
They didn't need one.
As the rooster crowed, my granny was already in the kitchen pouring her and my papa a second cup of coffee.
The coffeemaker didn't have "Mister" in the title. It was a percolator made of polished aluminum. Its design was one that included an asbestos fuse, so that it could withstand being plugged in all day.
With multiple trips back and forth from his blacksmith shop, my grandfather would finish the entire pot somewhere around 4 p.m., after the coffee had gone from original to extra crispy.
Every meal was eaten on the good China. No paper plates. Your presence at the table warranted the best their home had to offer. That included the China.
My grandmother would fill everyone's breakfast plate. Breakfast consisted of fresh eggs (cooked your way), bacon from a pork belly that had been cured in the smokehouse, and cat head biscuits smothered in real butter and homemade pear preserves.
Remarkably, before anyone told them that bacon, butter, and biscuits were bad for you, everyone was able to eat what they wanted with no negative health implications and no weight gain.
Work consisted of using their hands. They made or repaired something, or offered a service that others were willing to pay you for.
My grandfather was a blacksmith. A hot forge, a heavy anvil, and a hammer made his living.
The day centered around the Lord. Not themselves.
No one had to be told that this was how it was and was going to be. Everyone was raised in church. It was a given.
The level of service my grandfather provided to someone was directly proportional to the person's need. Widows and the elderly received extra care, sometimes at no charge.
My grandparents didn't work for someone else, so they called their own shots.
A break during the workday alternated between them sharing coffee in the metal glider under the chinaberry tree or giving attention to the garden. The garden was where potatoes, onions, tomatoes, okra, and other vegetables were planted.
They always grew more than was needed. What wasn't eaten or canned was shared with their children, neighbors, widows and the older folks.
Sundays were a day of rest. Unlike today, with casual clothes common at church, they put on their Sunday best. Often that included a hat for my grandfather.
Many blamed JFK for the decline in men wearing hats. He was the first president not to don one. My grandfather liked JFK, but he still wore his hat.
After church, one or more of their children, their spouse and kids would join them at their house for dinner and supper. Simple meals of Southern goodness. Fried chicken, mashed potatoes, greens, and biscuits and gravy were commonly served.
During football season, the Cowboys game was complimented by naps. Other times, everyone gathered around the console stereo to listen to Jerry Clower records.
Thursday was another day of rest. A day for auctions or fishing.
Auctions were a source for needed materials in the blacksmith shop. Plow shears, handles for hoes, shovels, and post hole diggers were just some of the items that were resupplied on Thursdays.
If stock was full, fishing took the day. The small, flat bottomed boat carried them to their favorite spots on Lake Millwood and the Little River.
Unlike today, when most of us are told where to go and when to be there, grandparents called their own shots. Something most of us have no clue about.
I truly believe that time moved slower then. Much like Mayberry, there was no rush. There was no need for it.
Service. Love. Joy. Those were their goals. And it's how they lived.
The simple life. It's not that far to get back to it. For those of us who've experienced it, it's a trip worth planning.
©2023 John Moore
John's books, Puns for Groan People and Write of Passage: A Southerner's View of Then and Now Vol. 1 and Vol. 2, are available on his website – TheCountryWriter.com, where you can also send him a message and hear his weekly podcast.