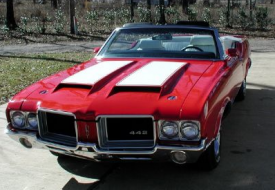 It was the car I'd always wanted. A 1971 Oldsmobile Cutlass 442 Convertible.
I found it one morning while cruising (pun intended) on eBay. The guy who owned it and had it for sale lived just east of me, a few miles across the Louisiana line.
It was red, with large white stripes on the hood. From the photos, it looked to be in great condition for a 32-year-old car. I stared at it on the computer screen.
I wanted this car.
My love of classic cars dates back to my first years of driving in the mid-70s. Like most kids at that time, my first car would be an older one. Only rich kids got new cars. I knew very few rich kids, and I certainly wasn't one of them.
I consider those who are my age to be among the most fortunate when it comes to first automobiles. Cars like our late-60s and early-70s Chevys, Oldsmobiles, Fords, and Pontiacs, are now selling for lots of dough at car auctions, such as Barrett-Jackson. And they were downright cool and fun to drive.
My very first car was a 1966 Ford Mustang that my dad picked up for $500. You couldn't buy a set of hubcaps for that car now for $500.
But, it would be my next car that would cause me to, some 30 years later, stare at a picture on the Internet at that 442 for sale in Louisiana.
My dad paid for my first vehicle, but in 1978, I bought my first car. It was a 1972 Oldsmobile Cutlass Supreme. Metallic gold, it had a 350 V8, bucket seats, and a console with an automatic transmission. I paid $1,000 for it, and some of the best memories of my life came from that car.
But, any Oldsmobile Cutlass lover at that time always had an eye for the 442. The 442 was the sport version of the Olds Cutlass.
Many people erroneously think that 442 is the size of the engine. But, 442 stands for 4-speed, 4-barrel (carburetor), and dual exhaust. The engine options were a 350-cubic-inch, or the 455.
After leaving home to raise my own family I would own a variety of classic cars. Among them were another 1966 Mustang, a 1971 Cutlass Sport Coupe, a 1972 Chevy pickup, and others. But, I never really got the 442 out of my head.
And there it was. Staring back at me.
My wife and I discussed it and, being the good sport that she is, she agreed to let me buy the car.
I contacted the guy and made him an offer to end the auction early. He accepted it, and a buddy of mine agreed to drive me to Louisiana to pick it up.
When we arrived, it looked even better in person than it did in the photos.
I asked him why he was willing to part with it, and he gave me an answer you hear often from classic car lovers. He had another car project he needed the money for.
I drove the car home, smiling the whole way. For the next five years, the 442 was part of the family. It would be featured in of one of our children's wedding, it took me back to my hometown for visits, and it was in a number of car shows.
But, like anything worth having, classic cars take time.
One evening, I was standing in the garage looking at the 442. It occurred to me that I couldn't remember the last time I'd driven it. If you can't remember the last time you've driven a car you own, it's probably a sign that you don't really need it.
This wasn't long after we'd moved to the country. I needed a tractor, and here sat a car that really should belong to someone who had more time to give it.
I put the car on eBay. A man in Galveston won the auction.
When he and his wife arrived at our home to pick it up, he had the same smile on his face that I did when I bought it. The car was going to a good home. That was all I needed to see to be able to let it go.
As he got ready to drive it away, I told him to wait a moment. I went into the house and grabbed a 442 ball cap that I had. I went back outside and placed it on his head. I told him to hold on to it, because convertibles tend to make you lose your hat.
He went back to Galveston, and I went to the tractor dealership.
I thought about that 442 convertible this weekend as I used my tractor to move a dead pine tree from our pasture. I still miss that car a little, but the tractor is far more practical.
And, I can say something that most guys my age can't. I once owned the car of my dreams.
©2017 John Moore
To read additional blogs, visit johnmoore.net/blog