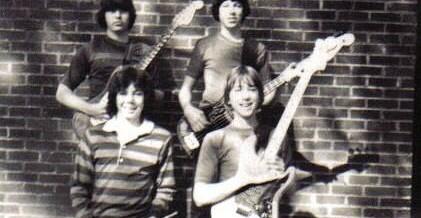 Most teenage boys have visions of being a rock star.
Correction. Visions of being a rock star are what they have when they're not having visions of cheerleaders.
As a child of the '70's, my rock star idols were longhaired, chain-smoking, whiskey-drinking, 20-somethings who made two guitars, a bass and a set of drums sound like a million dollars. At least that's what it sounded like to me. My dad said it sounded like noise.
My parents didn't view these guys the same way that I did.
I mean, how could a bunch of morally bankrupt fellas who had millions of dollars, adoring fans and girls throwing themselves at them while they flew on their own private plane that took them to a mountaintop home that overlooked a valley in California, possibly feel good about themselves?
I was pretty sure I knew the answer.
So, in 1976, my buddies Paul, Doug, Keith and I started our own band. "Freedom" we called it.
It was Paul that came up with the name. It was the bicentennial year.
"Freedom" may seem hokey now, but what else would we have called it? After all, Lynyrd Skynyrd was already taken.
We learned all the basic songs. "Johnny B. Goode", "Proud Mary", "Takin' Care of Business".
And we practiced until we were good enough to play our first high-profile gig:  The Little River County Nursing Home.
The audience was very responsive. I'm pretty sure they couldn't hear us, but they were very responsive.
We also played a street dance. But, mostly we just practiced in my parent's driveway. Mom wouldn't let us play in the house. I think she felt that if she had to suffer, the whole neighborhood should also have to suffer.
Time passed, the band drifted apart and we all went on to different things. I pursued a career in radio and for a while, so did Paul. Doug found a career in paper manufacturing, and honestly, I'm not sure where Keith the drummer is these days.
Paul always kept up his music and today he plays professionally. Doug says he still plays his bass.
Me? I still play guitar every now and then. I also enjoy playing the bass and the banjo.
And those morally bankrupt rock stars on whom I used to heap mounds of adulation? I'm thinking about putting the band back together and heading over to their nursing home to drop off some Dulcolax and play "Takin' Care of Business".