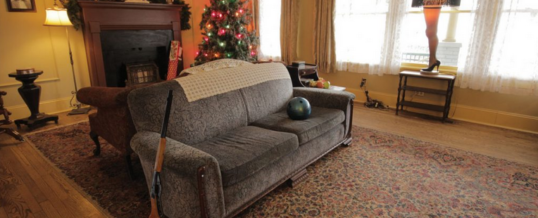 Of all of the movies that came out in 1983, it ranked #39 in ticket sales. That was ahead of Amityville 3-D, The Smurfs and the Magic Flute, and Smokey and The Bandit III – but behind Porky's II: The Next Day, Breathless, and the number one movie of the year – Return of The Jedi.
It's likely that of all of the movies I just listed, you probably only remember two of them: Return of The Jedi – part of the Star Wars franchise – and the film that barely broke the top 40 – A Christmas Story.
Today, A Christmas Story is now considered by many to be a holiday classic. But, it's really only been considered a classic since 1997. That's when TBS first aired it back-to-back for an entire day.
A Christmas Story sold $2 million in tickets when it debuted the week before Thanksgiving in 1983, and earned a total of just $20 million during its entire original theatrical run. As a comparison, Jedi raked in a quarter of a billion dollars while in theaters the first time.
The number of people who went to see A Christmas Story was so few that the movie had disappeared from most theater screens before Christmas 1983 even arrived.
But, some 15 years after its theatrical release, TBS made Ralphie, his brother Randy, the neighborhood bully Scut Farkas (best name ever for a movie bully), and their 1940s holiday antics in the film an integral part of most Americans' annual holiday viewing.
Based on the writings of the late Jean Shepherd (Jean was a guy), A Christmas Story is a somewhat-autobiographical retelling of his childhood. It was based on his 1966 book, In God We Trust: All Others Pay Cash, and other writings from that decade and the next.
The beauty of A Christmas Story is that all of us can see ourselves in the character of Ralphie.
Here's a kid who really wasn't focused on anything other than what he wanted during his ninth Christmas. He wanted a Red Ryder Carbine Action 200-shot Range Model air rifle. But, you could substitute whatever it was you wanted during a specific Christmas past, and you're suddenly in the film.
What one thing did you always want for Christmas, but you never got? For me, it was the complete Hot Wheels set.
Much has been discussed and many a light has been shined on A Christmas Story, but sadly, far less has been offered up for the man who not only gave us the film, but also influenced many radio listeners, including comedian Jerry Seinfeld.
Seinfeld has credited his style of comedy and how he delivers his observations of the benign, to Jean Shepherd. It was Shepherd's radio work that attracted Seinfeld and many other listeners.
Very few people can list their occupation as: Storyteller. But, Shepherd legitimately could.
In 1945, after serving in World War II, Shepherd ("Shep" to his friends) found his way into radio, where he worked at stations in Hammond, Indiana; Toledo, Ohio; Philadelphia, and at WOR in New York City. It was there that his fame began to grow.
The radio training allowed him to transfer his skills to film.
Yes, that's his voice all through A Christmas Story. He not only voiced the movie, he was also one of the co-writers of the film's screenplay. He even appears in the movie. He's one of the extras waiting to see Santa.
Just as his stories included real pieces of his story, the house in the movie was also a period piece that wasn't where Shepherd grew up, but it could have been.
I've always been a sucker for Victorian-style homes, and the one in A Christmas Story is no exception.
The difference between the house in the movie and the houses in most other movies is that the one in A Christmas Story is a real house. That's not the case in the majority of films, but it is the case in this one.
The Christmas Story house was built in 1895 and is located at 3159 W 11th St, Cleveland, Ohio. The exteriors of the home were the only ones that were used in the movie. But a private developer bought the real house in 2004 and sunk a lot of money into it so that every detail of the inside of the movie home is now found in the real one.
It's now a tourist attraction. You can even spend the night there.
So, if you want to see the bathroom where Ralphie had to hold a bar of soap in his mouth for saying things he shouldn't – Or be in the living room where the dad (played marvelously by Darren McGavin) unboxed his prized leg lamp, you can book a room.
Now, if you're a guy and you're reading this, and you're already reaching for your web browser to book a romantic getaway, you might also want to book a separate trip for two to the Bahamas, just to even things out with your better half.
Where are all of the key players from the movie now?
Darren McGavin passed in 2006. In addition to his many film roles, including as the father in A Christmas Story, he appeared in many TV series, including Riverboat, The Night Stalker, and The X-Files.
Peter Billingsley played Ralphie. He made over 100 TV commercials during the 1970s and early 80s. Most notably, playing "Messy Marvin" in some Hershey's Chocolate ads. He's now 47.
Billingsley doesn't act much anymore. But, he is still active in the movie business, mostly as an executive producer or director. I've seen him say that people still recognize him and come up to him on the street and say, "You'll shoot your eye out, kid!"
As for Jean Shepherd, he left us in 1999. He didn't live long enough to see how much his biggest movie contribution had become, but he was around when TBS launched the 24/7 broadcast of A Christmas Story just two years prior to his passing.
TBS or TNT have alternated airing the show at Christmas, but now, you can even watch it online at TBS.com.
If you, by some odd chance, have never seen the movie, please watch it. If you have already seen it, please join me in watching it again.
I'll also be watching under the tree for the toy I wanted when I was nine.
Hey, if Ralphie could get a Red Ryder Carbine Action 200-shot Range Model air rifle, there's no reason I couldn't still get that complete Hot Wheels set.
©2018 John Moore
John's book, Write of Passage: A Southerner's View of Then and Now, is available on Amazon.
Email John at John@TheCountryWriter.com.
Photo Credit: A Christmas Story House and Museum