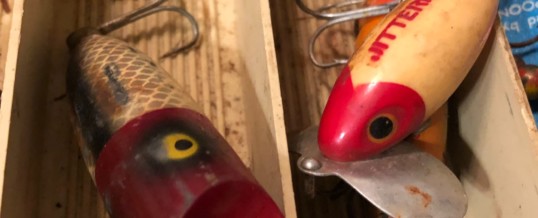 I don't remember much about it, but I do remember riding a train.
The adventure began with a discussion about passenger train rides coming to an end. My mom and grandmother were discussing how sad it was that, before long, you wouldn't be able to use the train as a means of travel.
The decision was made to take me on a train ride before the opportunity was gone.
I was about three years old.
This memory came back to me as we were going through my father's things. My mom relayed something my father had said to her after my sister passed away.
"Life is like a train. Some get on. Some get off," he told her. He wasn't being flippant. That's just how my dad was. He was trying to comfort her.
Just shy of a year later, my sister was there to greet him when he also got off the train.
During a time when most families are planning their Thanksgiving menu, we were sorting through a lifetime of acquired possessions. Getting ready for an estate sale.
I would build up a good pace of sorting and stacking items, then would be stopped in my tracks by an item that brought back a specific memory.
My father enjoyed many things, but fishing was a special passion of his. I wish that I could say that I inherited his love of being an angler, but I didn't. But, he did take me fishing enough when I was a kid that I remembered certain favorite fishing gear that he had.
Some fishermen like fancy rods and reels and expensive lures, but not my dad. His tastes in fishing equipment were basic. He liked the Zebco 33 reel and simple baits.
And I found a lot of both. As a matter of fact, I stopped counting the Zebco reels. There were buckets full of them. I was astonished at how many there were.
I guess he didn't want to run out.
I can recall being in a boat with him and being shown how to tie a lure. It was a wooden lure, painted red and white, with silver spinners on the sides. He would cast it into the water and slowly reel it in.
I don't recall whether he caught anything with that lure while I was with him that day, but I saw it again in his tackle box on numerous other occasions.
But that was half a century ago, and most fishing lures don't make it very long. They get caught up in underwater brush or in a tree limb and are cut loose and left.
I hadn't thought about that lure in decades, but as I opened one of his many tackle boxes, there it was. It was now yellowed and the paint had faded, but I recognized it immediately.
It was much smaller than I remembered. Fitting inside one of the inset compartments in the top tray, one of the eyes stared back at me as I looked at it and marveled that it was still around.
I closed the tackle box and placed it in my truck. I'm not a fisherman, but this was going home with me. I couldn't part with it.
There were many other items that brought back memories, but I tried to keep going to stay focused. We had a lot to go through and much to do.
But, it seemed that every other item brought back a slice of another time in life. A time that only remained in my mind, but remained, nonetheless.
Almost eight decades of things were now being sorted and stacked. Soon, they would belong to someone else.
My father loved estate sales. I'm sure that together, we went to hundreds of them. It was a chance to find something useful at a good price. The items that had once brought pleasure to the previous owner, we would now use.
One in particular came back to me. My father, mother, and I stopped at one in Texas. It was at least 20 years ago. My mom was in another part of the residence and my dad and I were together. We walked into a room and there, on the floor, was a name tag. I picked it up and examined it. It was a work badge.
Dad and I discussed how this was the person's identity. It was who they were. It represented how they made their living, where they went every day. And now, they were gone, and people they never met were going through their things.
Us. We were the people they never met who were going through their things.
But, my dad reminded me that they were just things. Things that had served the person while they were on the earth, and that likely, that person would be glad that someone else would find the same value that they had placed in them.
I put the badge on a shelf, and we went on with our shopping.
And now, it was time for others to find usefulness in my father's things. As I thought back to the discussion he and I had about the name badge, I became OK with what I was having to do with my dad's possessions.
At the end of a long, hard and physical day, we finally sat down and began to rest. That's when my mom told me what my dad had said about life being like a train.
I thought about my sister, my dad, and the train ride.
I got up, went to my truck, and opened the tackle box to take another look at the old, wooden lure. I closed it and headed for the shower to wash the tired off of myself.
As I said, I don't fish, but while cleaning up, I decided to start. I want to see why fishing brought such pleasure to my father.
It's something I want to do before I get off the train.
©2018 John Moore
John's book, Write of Passage: A Southerner's View of Then and Now, is available on Amazon.
Email John at John@TheCountryWriter.com.