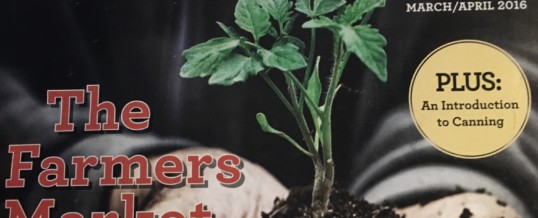 I have a hard time getting rid of magazines.
I know that I could remove my name and address and donate them to a library or a hospital, but I just know that one day I'll want to dig one back out to reread something.
Even though I've never done that.
My piles of Mother Earth News, Countryside & Small Stock Journal, Smithsonian, Cooks Country, and Guns & Ammo, are growing ever larger.
But magazines are dwindling in number, and many of the best ones ceased publication a long time ago due to a lack of subscribers.
As a kid, it seemed as if every family we knew had a stockpile of National Geographic. They were always lined up chronologically on bookshelves. The oldest issue was quite often an indication of how long a couple had been married or the age of their oldest kid.
My parents subscribed to National Geographic and I liked it. When you only had three TV channels and the Internet didn't exist yet for the general public, that magazine allowed us to see places we'd never visit in person, nor would we learn much about them without that publication. Like every other family, we saved every issue.
I couldn't even venture a guess of how many estate sales I've been to where people were giving away old copies of National Geographic to anyone who would take them.
My mom always made sure that I had a subscription to Boy's Life. I was able to live vicariously through the content of that publication.
And of course my endless supply of comic books were picked up weekly from the rack that stood near the entrance of the Piggly Wiggly. I was more of a Marvel Comics kid than a DC Comics fan, so my acquisitions were mostly The Amazing Spider-Man, The Fantastic Four, Sub-Mariner, Captain Marvel, X-Men, The Avengers, and Iron Man.
God Bless Stan Lee.
There seemed to be a lot of magazines targeting stay-at-home mom's back then. Redbook, McCall's, Better Home's And Gardens, and Southern Living, were a few. Moms and their friends would tear out and share recipes and other articles. Many of those can still be found in family recipe boxes and scrapbooks.
As I got older, I used to love The Saturday Evening Post. I'm not old enough to have been around when Norman Rockwell was the cover illustrator, but I did look forward to when it arrived in the mailbox. The stories were always interesting and I learned a lot from reading it.
Life and Look were also great periodicals. Both were photo journalism at their finest and included compilations of photos of world events, movie stars, and various other subject matter. The large format of each made it possible to see high-quality photos in a larger-than-life format. It's unfortunate that they're no longer available as they were in their heyday. The ability to tell stories with photos is truly a talent.
Today, you simply log on to "The University of Google," as my neighbor calls it, and look at an endless stream of whatever photos you want.
As I aged, I enjoyed other magazines, including The National Lampoon, which was driven by some of the same talented people who went on to be stars on Saturday Night Live, including John Belushi and Chevy Chase. That humor now would be considered politically incorrect, but boy, was it hilarious. I have not found that level of written wit anywhere else since.
People don't seem to subscribe to magazines like they used to. Part of that I'm sure are tight schedules and working long hours, but, like sitting down each morning with my newspaper and percolator coffee, there really is no substitute for some quiet time with the written word.
I keep a stack of the latest magazines on the headboard and by my living room recliner. There are also a few back issues in bookshelves in the living room and in the guest room. Well, OK, there are a lot of them.
But, I am making some progress. I've given some of my older issues to coworkers who said they would also like to read them, and my wife convinced me to recycle some. Not a lot, but some.
Maybe there's a magazine out there that helps people learn how to downsize. If so, I'd subscribe to it.
©2017 John Moore
Read additional blogs at johnmoore.net/blog