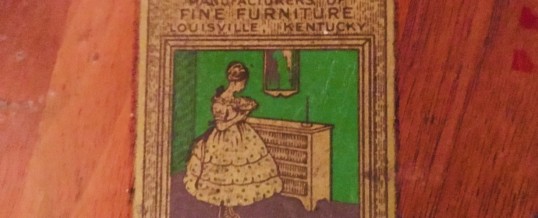 I was supposed to head straight to the store and back. The garage sale sign I saw not long after leaving home altered my trip just a tad.
I steered my Prius left into the housing addition and followed the arrows. I easily spotted the house. One, because it sat at the top of a small hill and two, because there were a lot of vehicles in front of it.
It was actually a moving sale, but I use garage sale as a blanket term when discussing any type of sale where people are selling their stuff. This would include estate or moving sales. It's a general term used in the South, much like asking, "What kind of Coke do you want?"
For those of us who frequent garage sales, we know that estate sales and moving sales almost always have better items. We also know that estate sales can be pricey because relatives think grandma's bedroom furniture is worth more than it actually is because they are attached to it. But, deals can be had at moving sales because the sellers don't want to move grandma's bedroom furniture.
The people who were having the sale I stopped at were moving to San Antonio to be near their children. Since I didn't know about the sale ahead of time, I arrived fairly late in the day. That meant most of the good things were gone.
I glanced around the almost-bare display tables at the ashtrays, kitchenware and books, and something caught my eye. It was the legs of one of the display tables. Instead of being the typical folding table legs, these were a pretty, dark wood.
"Is this table for sale?" I asked.
The lady nodded.
"Yes, it is," she said. "There are four chairs in the house that go with it."
The table was covered with a white cloth. I asked if we could remove the cloth so that I could see the table top.
After relocating the ashtrays, kitchenware and books to a nearby Rubbermaid folding table, she pulled back the cloth to reveal a beautiful piece of furniture.
I wasn't sure why I instantly liked it so much, but I did. So, I asked to see the chairs.
She took me into her home, which was almost empty, save a china hutch and a few other pieces of furniture. The chairs were in the dining room. I examined them. They also looked great.
We went back outside so that I could look over the table again.
"I almost forgot," she said. "The table has sliders."
I looked for the slit in the center of the table where you would pull it apart to add a table leaf. There wasn't one.
"No," she said. "They're on each end."
She proceeded to pull a hidden leaf from underneath one end of the table. She lifted it slightly and pushed it in. It added a foot to the length.
I wanted this table and chairs.
My wife had recently decided she wanted to replace her round antique dining room table with something rectangular, but we hadn't discussed details.
"How much?" I asked the lady.
She quoted me a price of a few hundred dollars. I called my wife, who agreed to stop working on a quilt and let me come pick her up to come back and take a look.
After seeing it, she liked it too.
I asked the lady if she knew how old it was, who made it, or where it was made. She didn't. She said that when she and her husband bought the house in 1980, they bought the table and chairs from lady who sold them the home.
She said the lady was quite elderly and that she told them that she had bought the table and chairs when she got married. The lady told her that she and her husband didn't have much money, but she wanted one nice thing for her home to start her marriage. She had picked this.
We loaded the five pieces carefully into our truck and took it home.
I began to inspect the chairs for any problems, but found nothing major. I crawled underneath the table. I almost missed it, but something caught my eye. It was a sticker with a drawing of a Victorian-looking woman staring at a piece of furniture. Above the drawing were the words, "Consider H. Willett Inc. Product. Manufacturer of Fine Furniture. Louisville, Kentucky."
Below the drawing were the words, "All Walnut."
I could find almost nothing on the web, except that the furniture company was in business from 1929 until 1962, and that they were known for quality furniture at a reasonable price.
After World War II, their furnishings were so popular that people waited for up to one year to have theirs delivered.
The legs on a couple of the chairs were a little loose, so I took them to a local antique furniture repair store. The man took one look at them and asked if I had any idea what I had. I told him that I did not.
He told me that the company only made the walnut pieces for three years in the 1930s. He also told me that the table and chairs were quite rare and valuable.
My wife and I were pleasantly surprised.
I came back later to pick up the chairs and reunite them with the rest of the set.
We've had them for a few years now and we use them daily. On the table, my wife lays out quilt pieces, we play Scrabble, and we share meals.
We don't consider ourselves the owners of this table and chairs. We are the current stewards. Whoever gets it after our days with them are done, will get the story that goes with it. And they'll have to promise to take extra good care of the one thing a bride chose to put in her home at the beginning of her marriage during America's Great Depression.
©2017 John Moore
John's new book, Write of Passage: A Southerner's View of Then and Now is available on Amazon.