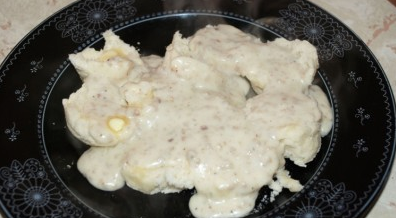 Anyone who grew up in the South knows all of the major food groups. There's dairy, meat, fruit, vegetables, and gravy.
Once you get outside of the South, there are other substances in existence that are called gravy, but they aren't anything close to real gravy.
What is real gravy? I call it cream gravy, but real gravy is called by many names. Whether you call it cream, sawmill, country, white, milk or sausage gravy, real gravy is the gravy that's poured over biscuits at breakfast, or chicken-fried steak at dinner or supper.
By the way, in the South, it's breakfast, dinner and supper, not breakfast lunch and dinner. But, that's a whole 'nother column.
Cream gravy is made from bacon or sausage drippings, flour, milk, salt and pepper.
Once you've fried your bacon or sausage in a cast iron skillet, you pour out all but a couple of tablespoons of the grease, then slowly mix in the flour until the roux has the right consistency. Then you gently mix in your milk. The heat should be low and slow.
When your gravy is not too thin and not too thick, pour some of that over the top of a couple of buttermilk biscuits made from scratch and you've got a breakfast of champions.
Health-conscious people try to claim that there's no benefit at all to eating cream gravy. But I'd like point out that I've eaten gravy all of my life and it's helped put my cardiologist's kids through private school.
There are many other types of gravy that are fine for specific culinary applications. These include giblet, brown, onion, and mushroom gravies. Red-eye gravy is also tasty. It's made from the drippings of fried ham and coffee. But only cream gravy can work at any time for any meal.
I Googled 'gravy' just to see what was out there and learned that there's also such a thing as 'vegetarian gravy.' I was curious how many vegetarians you should put in vegetarian gravy, but couldn't find a specific number. A friend of mine suggested all of them.
There's also a wonderful thing called chocolate gravy. I've mentioned this before in a previous column. I grew up on chocolate gravy, and for a special treat, it can't be beat. Every now and then, I still ask my mom to make it for me when I go home. If you're interested in her chocolate gravy recipe, it's posted at johnmoore.net/blog.
I did learn that cream gravy is based on something called Béchamel sauce. Wikipedia referred to it as "…one of the mother sauces of French cuisine." Makes me feel a little vindicated that my momma's cooking has something in common with Julia Child's.
I learned that other cultures throughout the world also love gravy. In England, they serve gravy over lots of their dishes. If you've ever seen or eaten British food, you understand why they cover it up.
What America needs is a gravy awakening. The art of gravy making is slowly being lost to time. I encourage all Americans this week to set aside one day, and instead of throwing lots of fruit and vegetables into a blender, trade in your smoothies for a plate of biscuits and cream gravy.
Do it for yourself. Do it for our Southern heritage. Do it for my cardiologist. His kids are about to start college.
©2015 John Moore
For more of John's musings, visit johnmoore.net/blog