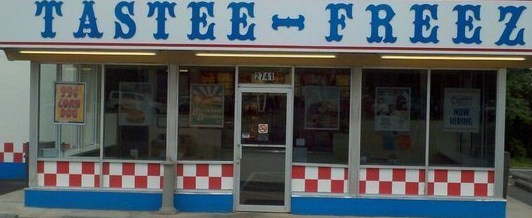 I miss Tastee Freez and A&W Root Beer stands.
My earliest recollection of hamburgers were ground beef patties that my mom fried in a cast iron skillet and placed between two pieces of white bread that were coated in Miracle Whip.
I'm sure that the burgers were fried in bacon drippings that had been saved from breakfast, because virtually everything we ate back then was fried in bacon drippings that had been saved from breakfast.
As I got older, and my parents felt that I was suitable to take out in public, we'd go out to eat on Friday nights. Many times, it was to go get a hamburger and French fries.
Ashdown, Arkansas, had about 3,000 people in those days, so there was no McDonald's, Burger King, or Wendy's.
If you wanted a burger, you had a few options, but I always liked it when we went to the Tastee Freez.
Tastee Freez was a good place to eat, and they had 100 different flavors of milkshakes. The coconut-flavored milkshake was my favorite. From burritos to burgers, they had it all.
I can remember sitting in a booth munching on a burger. I'd watch out the window as the teenage guys would drive up in a Chevelle, Camaro, Mustang or Firebird and flirt with the girls.
John Mellencamp would later immortalize Tastee Freez in his song "Jack and Diane."
Unfortunately, Tastee Freez has gone the way of the Chevelle and the Firebird. A Google search showed that they're still around, but found primarily in California, and even Alaska of all places. You'd think that people in Alaska were already cold enough without a Tastee Freez.
Sometimes, we'd go to Texarkana to the A&W Root Beer drive-in. To this day I've never had a better root beer than an A&W served in one of their frosty mugs.
In the 60s, A&W had a brilliant marketing campaign. They'd give each kid under about age 10 a tiny A&W root beer mug with their logo on it, and offer kids free root beer if accompanied by a parent. The mug seemed huge to me at the time. My mom kept my A&W mug, and a few years ago she showed it to me. I've seen shot glasses bigger than that thing.
I remember A&W had hamburgers, but I'm afraid they were overshadowed in my mind by the free root beer.
A&W stands are also still around according to Google, but not anywhere close to where I live.
The best hamburger I find these days is one that I discovered after moving to Texas.
Whataburger.
I know that there are those who will argue that there are better burgers than a Whataburger, but I would argue that those folks are simply misguided.
If you ever want to know if a Whataburger all-the-way with cheese isn't the best burger you've ever eaten, I dare you to move someplace where they have no Whataburgers.
Or, just on a trial basis, stay somewhere for a month where there are no Whataburgers. I have friends who've left the Lone Star State and the only thing they want to do when they come back to visit, is go to Whataburger.
My point of all of this is that somewhere along the way, we lost Tastee Freez and A&W, so let's all band together and do whatever we can to make sure we don't lose Whataburger.
Maybe we can get John Mellencamp to write a song about it.
©2016 John Moore
To read additional blogs, visit johnmoore.net/blog