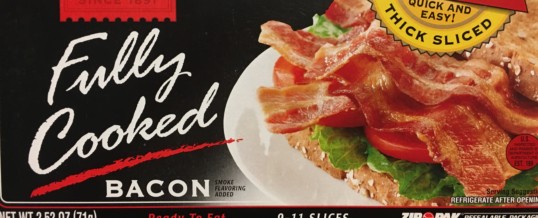 I was rummaging through the freezer when something caught my eye. Bacon.
But, this wasn't just any bacon, this was fully-cooked bacon.
I reached into the door of the freezer and removed the smaller-than-normal package. I read the label. It said that it did not require refrigeration or freezing. So, this bacon presumably could last forever, putting it in the same class as Hostess Twinkies and Velveeta.
I'm guessing that my wife put this bacon in the freezer out of habit.
So, how was I supposed to cook already-cooked bacon? According to the directions, I could nuke it in the microwave or heat it in a skillet. I opted for an unmentioned option. The oven.
After my Pillsbury Flaky Biscuits were done (an old family recipe), I laid the strips of bacon on the baking sheet, shut the oven off, and let it heat for a few minutes.
The outcome was perfect. That is, if I had been looking for some material to make new gaskets for my tractor.
I don't recommend the fully-cooked bacon. Lesson learned.
I moved on from the poor, rubbery substitute for real thin strips of pork goodness, but began to think about the versatility of bacon. It is the one food (other than maybe popcorn) that most people can agree on.
I've never met anyone who didn't like bacon. Brussel sprouts, broccoli, and fruit cake are all pretty much universally despised. But, bacon is one of the few things that people do not argue about.
Let's take a typical breakfast conversation about politics and replace the word 'president' with the word 'bacon," and see how much better the discussion becomes:
Person 1: "What did you think about what the bacon had to say this morning?"
Person 2: "The bacon spoke to me. I couldn't agree more with the bacon."
Person 1: "The bacon was on top of things, which is exactly where I want my bacon to be."
Person 2: "Long live the bacon."
There are entire websites, Facebook pages, and groups dedicated to bacon. There are even bacon festivals.
Last month, Bacon Fest was held in Wauconda, Illinois, and featured beer, bands, and of course, bacon. On October 14, the fourth annual Bacon Fest is being hosted at the Hard Rock Hotel & Casino in Sioux City, Iowa, as a fundraiser for Siouxland Habitat for Humanity. The same day, there's Baconfest in Amelia, Ohio.
To my knowledge, there are no Brussel Sprout Fests, Broccoli Fests, or Fruitcake Fests scheduled. And I hope there aren't.
The creativeness with which people use bacon is inspiring. One guy on the web makes a bacon weave. He threads strips of bacon together like the seat of a 1960s folding lawn chair, and then wraps it around a couple of pounds of ground beef. He then bakes it in the oven like meatloaf and slices it up.
I'm nominating him for The Nobel Peace Prize.
Another great bacon recipe for the oven is both amazing, yet twisted. Someone online posted a picture of a bacon turtle. To make this recipe, you'll need to do the same bacon weave mentioned above, wrap it around about a pound of ground beef, and then use some hot dogs for the head, legs and tail.
I can't wait to make this for my wife.
There are several ways to cook bacon strips, other than in a cast iron skillet (which is my preferred method).
Before the George Foreman Grill, there was the waffle iron. Yes, you can cook bacon in a waffle iron. Think about it. There's not much difference in how the George Foreman Grill and a waffle iron are designed.
My guess is that one morning during a breakfast conversation, someone was substituting the word 'bacon' for the word 'president,' when they tried cooking bacon on a waffle iron. The next thing you know, the former heavyweight champion of the world was hawking grills with his name on them.
You can also cook bacon on an outdoor grill. Just turn on one burner on the side where you're grilling your burgers or steaks, and cook your bacon on indirect heat by placing it on the other side of the grill.
You can also deep-fry bacon (in bacon fat, of course). This method will give you one of the best flavors of any cooking method, but it will also ensure that your cardiologist's children go to the absolute best private schools.
Last, but not least, you can also bake bacon. That even sounds neat, doesn't it? "Bake bacon."
There are bacon racks that you can buy that will allow you to hang the bacon strips above a baking or cookie sheet, allowing the grease to drip off, so that you have a little less grease than the frying in fat method.
So, let's all do our part for peace and harmony and try and bring the world a little closer together by sharing some bacon with a friend.
Just don't share any fully-cooked bacon. That is, unless your friend needs new gaskets for their tractor.
©2017 John Moore
John's new book, "Write of Passage: A Southerner's View of Then and Now" is available on Amazon.