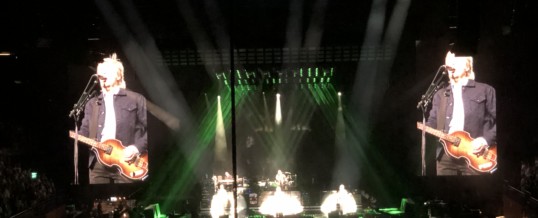 The Beatles broke up when I was 8.
Those eight years are the same ones they were together.
So, my life has always included John, Paul, George and Ringo.
From 1963 until 1970, The Beatlesdominated the airwaves, both in radio airplay and in television coverage.
They were also covered in newspapers and magazines. They made movies. They knocked Elvis off his throne. They were a big deal.
They still are.
The fact that some 50 years later I'm still writing about them and you're still interested in reading this is remarkable. 
Other artists of the same era have waned in popularity or disappeared. You never hear, "Gee, do you think Paul Revere and The Raiders might get back together?"
But Paul and Ringo, the two surviving Beatles, still draw huge crowds as solo acts. My wife and I have seen them both in the last five years. Both shows were excellent and being at each felt like being part of history.
Beatlemania is still a thing. One newly-discovered tidbit of Beatle information sends fans into a tizzy.
It's why I'm writing this.
Mark Lewisohn, who some consider to be an expert on the band, is a writer working on another Beatles book. He claims he came across a taped interview with John, Paul and George (Ringo was ill), recorded shortly before the band split.
If this tape is real, what makes it unique is that it seems to indicate that Lennon was planning on the band making more records, which contradicts everything Beatles fans have always believed – that it was John's desire to leave the group that caused the end of the Beatles. Even Paul has said that it was John who broke up the group.
But allegedly in this recorded session, Lennon discusses a 4-4-4-2song split. John, Paul and George would each get four songs of their choice on the next album and Ringo, if he wanted, would get two.
During the recording, Paul allegedly disses the quality of George's songwriting and questions the number allocated to each person.
Lennon then tells McCartney that he has songs they don't like either (he cites Maxwell's Silver Hammer) and suggests he should offer his lesser work to other artists instead of to his own band.
But this album, which would have followed Abbey Road and Let It Be, their last records, wasn't to be. If the recording is real and is verified, an inability to agree on songs seems to be part of the reason the album never happened, but Paul appears to be the dissident here, not John.
It looks more and more as if Yoko was a scapegoat.
Mark Lewisohn has already released one Beatles book and plans to publish two more. For those of us who still find the band's work to be unprecedented and an integral part of our lives, this new information about The Beatlesis pretty stunning. It also helps feed an insatiable appetite for more of something their fans wish hadn't ended.
If you're a fan, you understand. 
No other musical group before or since has had the impact of The Fab Four.
No one else is even close. Even and eight-year-old knows that.
©2019 John Moore
John's book, Write of Passage: A Southerner's View of Then and Now, is available on Amazon and Barnes and Noble. You can reach John through his website at www.TheCountryWriter.com.