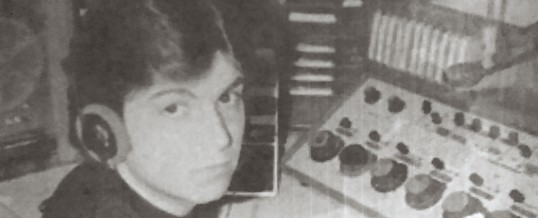 I never expected to do most of the things I've done in my life. Radio announcer, public relations, healthcare, law enforcement, and working for charities.
You're supposed to tell The Lord that if he'll open a door for you, you'll walk through it. He leads, you follow.
But I haven't always done that. Most of the jobs I mentioned were ones I sought out.
When you're young, you think you're in control. Of everything.
By the time you figure out that you were never in control of anything, you've wasted valuable time you could have used serving Him and others.
I've had a career like many – Go to college; get a job; stay at that job as long as possible; build a resume that helps you get a better job; repeat.
But after losing four family members in nine months between 2017 and 2018, I paused my career. I quit a great job so that I would have the time required to focus on helping my mom.
Three of the family members we lost were in a car wreck. Lawyers, insurance companies, and the associated folk who smell money when people die were making things unpleasant for my mom. I had to step between her and them and protect my mother.
I quickly realized that the stress of trying to protect her when she didn't even live in the same state as I do was taking a toll on me. So, I left a job I loved and took a break from working.
That job wasn't my only income. I also make money from public speaking, commercial voice work, selling my books, and other endeavors.
But this newspaper column isn't one of the things that pays the bills.
Most people assume that my column, which is featured in several publications in two states, pays me well. The fact is to retain ownership of my work; I take no money for it.
But, back to my original story about following the right path.
About six months after the car accident, the legal waters began to recede and my family started to feel somewhat normal, so I went back to work.
I accepted a job that seemed to fit my desire to mix my Faith with my living. But, it wasn't meant to be.
The Lord opened that door for me to walk through. That same door opened again and I walked back out.
So, I've made the decision to write and speak as a major part of my living. Speaking is an opportunity for me to share humorous stories about growing up in the South and to share my Faith.
I felt a call at a young age to share His Word. Honestly, I should have heeded that call then. But I thought I knew everything.
Now, it's time for me to listen and try something new. Something that's actually old.
Heeding His call.
So, I'm off on a new adventure. One that includes you. For over five years you and I have visited through this column. Embarking on a speaking tour will give us a chance to finally meet.
But, going on the road won't prevent me from writing what you're now reading. This column will continue. I am grateful to this publication for carrying it.
I still believe in the value of the local newspaper. It keeps people honest through solid local and regional reporting, and in addition to credible coverage, most papers still have two things I love – a crossword puzzle and the comics.
There's not much else that's better than a cup of percolator coffee and the morning paper.
Subscribe to your local paper. Support them.
I receive lots of comments through email about the things I write. I respond to all of them. You can reach me through my website TheCountryWriter.com or my email at john@thecountrywriter.com.
I look forward to hearing from you. Let's visit soon.
God Bless. ~ John
©2019 John Moore
John's book, Write of Passage: A Southerner's View of Then and Now, and his new book, Write of Passage Volume II, are available on Amazon and on John's website at www.TheCountryWriter.com.