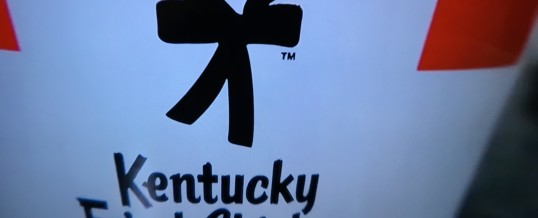 Few restaurants can make a Southern staple better than homemade, but Kentucky Fried Chicken does.
If I've eaten fried chicken at your house, please don't take this wrong. I'm sure your chicken is excellent. But one man was able to take a chicken, 11 herbs and spices, and a pressure cooker and hit it out of the park. That man was Harland Sanders.
We all know him as Colonel Sanders — a title bestowed on him by the Commonwealth of Kentucky, not by the military.
The Colonel came up with his chicken recipe at a roadside eatery in Kentucky during the Great Depression. He had tried and failed at other jobs, including selling insurance and running a gas station. But, it was his fried chicken that caught on.
Thirty years after his chicken debuted, the corporate franchise that he had sold, but remained the spokesperson for, had a location near where I was growing up. His chicken in that town would one day connect me to an important man.
We didn't go out to eat very often when I was a kid, so when we did, my sister and I always hoped it would be at a place that we liked. We had the local places in Ashdown, Arkansas, where we'd always go, such as Mac's Cafe, Mesamore's, Herb's Creamland, and Tastee-Freez, but if we went to Texarkana, a much bigger city, there were many more choices.
One of those choices was Kentucky Fried Chicken. On Stateline Avenue, the KFC was near the A&W Root Beer drive-in and across from Gibson's Department Store.
Before Wal Mart, there was Gibson's. But, that's another column for another day.
I can remember each visit, taking that first bite of a KFC chicken leg and thinking that it was one of the best things I've ever eaten. I felt the same way about the gravy that was on the mashed potatoes. Drinking gravy wasn't allowed, or I probably would have done it. It was that good.
My love of KFC carried on into my adult life. Picking up a bucket of chicken on a Friday night or weekend was an easy way to feed the kids, and they liked it.
Southern Baptist preachers also like fried chicken. So, when I received a call from my then-spouse late one week regarding an unexpected Sunday lunch guest, I decided I would call on The Colonel for help.
I was sitting at the radio station doing my show when the phone rang. I was told that the minister who was visiting our church in view of a call that weekend (that's Baptist for "See if we want to hire him as our new preacher"), had not been invited by anyone to their home to eat after Sunday services.
By her telling me this, what she was actually saying was, "We are inviting him to our home to eat after Sunday services."
I remember that we had a lot going on that weekend and fixing a meal wasn't doable because of time. So, I said, "He's a Southern Baptist preacher, so we know he likes fried chicken. I'll get some KFC."
We attended church and listened to him preach. We liked him a lot. He was smart, kept the congregation's attention, and he was funny.
I was relieved. This guy was coming to my house for lunch, so I was glad that he was personable.
He came by himself that day. I can't remember why his wife wasn't with him, but he talked about her a lot. They had children, and he talked about them too.
He ate plenty of the Kentucky Fried Chicken. I was glad. I knew he'd like it, and I was glad I was right.
He and I were about the same age, so the conversation was easy. He played bass guitar and I played guitar. It's always good to have something in common with a Sunday lunch guest. He and I had two things we could discuss, right off the bat. KFC and guitars.
After lunch, I liked him even more than during the sermon. I hoped that the church would invite him to be our new pastor. We did.
He took over as our new minister, and we met and got to know his wife and children. He was still the pastor when I was offered a job in Tyler, Texas.
We found a church home in our new city, but I did miss hearing him preach and seeing all that he was getting accomplished.
He didn't stay forever, though. He left the ministry when he was elected Governor of Arkansas. Later, he ran for the office of President of The United States.
He didn't win, but his daughter, Sarah, now works for The President of The United States.
That preacher who broke bread with me and shared a plate of Kentucky Fried Chicken in my home was Mike Huckabee.
Thanks to The Colonel and his 11 herbs and spices, we enjoyed a finger lickin' good meal and visit that I'll always remember.
©2018 John Moore
John's book, Write of Passage: A Southerner's View of Then and Now, is available on Amazon. 
https://www.amazon.com/Write-Passage-Southerners-View-Then/dp/1548144983
Email John at John@TheCountryWriter.com