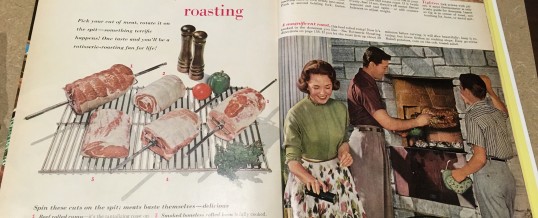 My wife and I love to buy old cookbooks. I find most of them at estate sales.
The families who are selling them are indifferent and I'm sure they have never looked for or seen the notes that their mom, grandmother, or great grandmother, scribbled in the margins.
So, for 25¢ or 50¢, I take home the guidebook for so many of their memorable family meals.
But, some of the best recipes are not found in a cookbook. They were found in our mom or grandmother's kitchens. And if they're not learned or written down before these beloved women are gone, the recipes can be lost to time.
One such recipe for me, and I've written about it in this space before, is chocolate gravy.
My mother's Aunt Maude gets the credit for this hot, chocolate pudding (or fondue, as some have called it).
In the 1940s, my mom and her siblings would spend the night with Aunt Maude. Being poor folk in rural Arkansas, many in my family lived on homesteads. They had wells for water, a wash pot in the yard for laundry, and no electricity.
This meant that most meals were made from just a couple of staples from the store in town, such as flour and sugar, but the rest came from what they grew themselves.
This was one reason that chocolate gravy was a special treat. The Hershey's cocoa it took to make it was an expensive luxury.
Chocolate gravy was poured over hot, open-faced buttered biscuits. My mom, aunts and uncles all felt as though they were getting dessert for breakfast. Technically, they were.
Years later, so did I. My buddies always wanted to spend the night at my house because my mom would make chocolate gravy.
When I grew up, I got my mother to show me how to make it, and I had her write down the recipe. Now, I have my precious mom's handwriting to forever tell me how to make one of my favorite meals.
Sometimes, humorous things are associated with family recipes.
On my wife's side of the family, it's noodles. Her grandmother was famous for her noodle recipe. Made from scratch, grandma's noodles are legendary.
One trick she used was to add a bit of yellow food coloring so that the noodles wouldn't look so pasty. Unfortunately, one Thanksgiving, grandma accidentally used a drop of red food coloring instead of yellow.
That event is now forever known as, "The Pink Noodle Thanksgiving."
Grandma has been gone for quite awhile, but her noodle recipe lives on each Thanksgiving. Sans the pink coloring.
One Christmas when the family gathered at our house, one of our daughters-in-law brought a pecan pie she'd made. Now, let's just say that cooking isn't exactly her forte. So, to venture off into baking was a trek into new territory.
Pecan pie is my favorite dessert, so I anxiously looked forward to enjoying a piece of it after the meal. She proudly served up pieces to everyone. We each took a bite.
You could tell from the expressions on everyone's faces, and how our chewing slowed to a crawl, that something wasn't exactly Hoyle with that pecan pie.
No one said anything. Finally, our daughter-in-law spoke.
"Oh, no," she said. "What is that taste?"
Several ideas of what the mystery flavor in the pecan pie was were thrown out there before someone identified it as peppermint.
Instead of vanilla extract, she had used peppermint extract.
Embarrassed, she threw the rest of the pie in the trash and left the room.
I got the pie out of the trash and placed it back on the counter. When she came back, she asked how the pie got back on the counter. I told her that it had crawled up there on its own.
Just as music brings back specific memories of people and places in our lives, so do family recipes.
Aunt Maude's chocolate gravy, grandma's noodles, and other recipes that bring back those who have left us, are a wonderful way to savor the love that they have forever given us.
So, if you see an old cookbook at a book resale shop, a yard sale or an estate sale, pick it up and take it home. You may find another family's discarded recipe that could lead to a new hit at your next family gathering.
Today, I'm using a 1960 Better Homes & Gardens Meat Cook Book that I picked up with several other recipe books at a yard sale.
This bacon-wrapped, stuffed pork tenderloin I'm making could be my connection to family members I've yet to even meet.
©2016 John Moore
To read additional blogs, visit johnmoore.net/blog