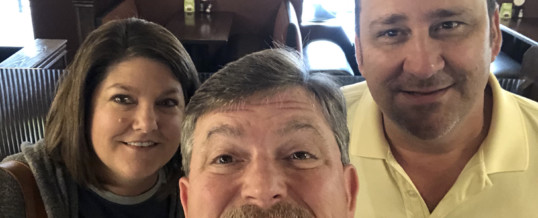 I opened my Facebook app on my phone and saw that I had three private messages.
Two were the typical, "Please forward this before a worldwide virus overtakes everyone on Facebook," kind of thing. But one was a message from someone I don't hear from often – my cousin, Randy.
Randy is the middle child of my mom's oldest sister. He and his older brother, Doug, and I would hang out during holidays when we were growing up, but I also used to go visit them in Alvin, Texas.
We were close. But as the 1970s came to an end and I graduated from high school and went on to college, what typically happens with most families, happened. I moved on and got married. So did Doug and Randy.
We saw each other less-and-less, but when we did, it was as if we'd just talked. We picked up where we'd left off – even if we'd left off years earlier.
When I got Randy's Facebook message, I tried to remember the last time we'd seen each other. I couldn't.
"Hey, I'm going to be in Tyler this weekend. Are you going to be around? Want to grab a cup of coffee?" he wrote.
One of his children plays college volleyball, and had three games scheduled in town. That was going to give us a lot of time for coffee.
Randy and his wife agreed to meet me at a local pastry shop that Saturday morning.
They must have been sitting in their vehicle in the lot for a bit, because when I got out of mine, I noticed they had already exited theirs. We gave each other a hug and went inside.
Coffee and light fare was ordered, and then we took a booth.
"So, tell me again how many kids you have," I said.
"Three," he answered. "You?"
"Four," I said.
We spent about an hour catching up. I think we were both kind of surprised at how much time had passed since we'd last seen each other or talked. Neither of us brought that up, but I know we were both wondering.
It obviously had been way too long.
Growing up in the 1960s and 70s, family was everything. Each holiday – and many weekends – was spent with grandparents, aunts, uncles, and cousins. And I have a lot of cousins.
My mother is one of six children. My father was one of four. From those 10 also came many children.
I was born the oldest grandchild on both sides of the family, so when I graduated high school I had cousins who were still in pre-K and kindergarten. So, it was logical that I would be closer to the cousins nearest my age. That included Doug and Randy.
Catching up on how our parents, kids, and each other were doing was good. There were some things I didn't know about Randy and his family, but should have. He probably felt the same.
As we wound down our visit, we said our goodbyes, and he and his wife headed back into their lives. And I headed back into mine.
Or, so I thought.
I smiled as I started my car and exited the parking lot. As I was thinking about how too much time had lapsed between our last visit, my phone rang.
It wasn't a number I recognized. Suspecting that it was a telemarketer, I almost didn't answer it. But, I did.
"Hello," I said.
"John, it's your cousin, Rick," said the voice on the other end of the line.
"Rick," I answered with enthusiasm. "I can't believe I'm hearing from you. I just left a visit with a cousin from my mom's side of the family. How are you?" I asked.
"I'm headed back to Houston from Arkansas," he answered. "I wondered if you had time for a cup of coffee?"
"Where are you now?" I asked. "Texarkana," he said.
I asked if he liked light fare and good coffee. He said he did. So, I gave him directions to the very same bistro I'd just left.
I have to be honest and say that I wondered if my time was about to be up, and that maybe the Good Lord was giving me a couple of long-overdue visits with kinfolk before I boarded the eternity train.
I mean, really, how unusual is it to hear from two cousins you haven't seen in many years – both on the same day, within minutes of each other?
It was going to take Rick a bit to get to Tyler, so I went home to let my wife know what had just happened. I also called my mom (who was more than thrilled that I was reconnecting with family) before I headed back to town for additional coffee and conversation.
Rick is actually my second cousin. His father and my grandfather were brothers. But, there's not a lot of age difference between the two of us. However, the six years between our ages, and the fact that he grew up in Foreman, Arkansas, and not Ashdown, was enough that we didn't hang out together like I had with Doug and Randy.
But, Rick and I, it turned out, do have a lot of similarities, including the fact that our careers led us away from Arkansas.
He went to college and became an engineer. I went to college and wound up working in the news media. Both of our career choices required living somewhere larger than Foreman and Ashdown.
Our career choices, future retirement, and the patriarchs we'd lost, dominated our lunch conversation.
As I sat across from him in the same restaurant in which I'd visited with Randy and his wife earlier, I thought about how Rick and I had become two of the most senior family members.
The forecast showed ugly weather was on its way, and he had a long drive ahead. He headed out for Houston, and I headed out for home.
After our visit, I committed to reconnect with family. Especially cousins.
Because, if you think about it, our cousins are our first, best friends.
And when two of your first, best friends drop back into your life on the very same day, I'm pretty sure that's a sign.
©2018 John Moore
John's book, Write of Passage: A Southerner's View of Then and Now, is available on Amazon. Email John at John@TheCountryWriter.com.