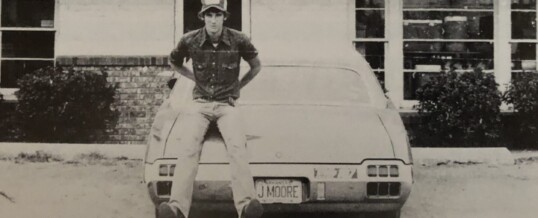 Spring had arrived, but the heat and humidity had not. It was glorious.
If I'd had a convertible, I would have had the top down. But I didn't. So I did the closest thing I could. I rolled the windows down before putting on my sunglasses.
The shifter was in the console. I engaged the transmission to drive and pulled onto the highway from my parents' home. I drove to my job at the radio station.
Radio was king. To work in the business was a privilege and a lucky break. Especially for a 17-year-old kid from Ashdown, Arkansas.
I actually had a job that payed me to play music. And back then, music was everything.
The factory AM radio was gone from the dash of my gold 1972 Oldsmobile Cutlass Supreme. The first thing I did when I bought the car was to remove the radio and put a high-end AM/FM cassette deck.
It was as high end as Wal Mart store #17 had to offer.
The 8-track player had ruled most of my high school years, but cassettes were smaller and you could carry more of them in your car.
My friends and I thrived on new music. We waited on album release dates like a new father waited to hand out cigars.
Being a disc jockey gave me first access to new music. Having played in a band since age 14 I had a pretty good sense of new music that had an edge and was just hitting the market.
It didn't hurt that I also got free samples from the record companies.
My Cutlass became a debut sound room where my friends could lay ears on new artists.
The late 1970s and early 80s were a unique time for how music was delivered to the public. In addition to 8-tracks, reel-to-reel tapes, and cassettes, artists' new work also was still put out on vinyl, which included the now lost craft of album art and liner notes. I would voraciously read each new issue, which allowed me to explain who wrote the songs and played which instruments when I introduced them to friends.
When AC/DC's album Back in Black was released my senior year, I thought it was so extraordinary that I cornered my buddy Kent Wells and coaxed him into the Cutlass for a review. When it was over, he looked at me and smiled.
On a later trip to the mall with my friend Mark, he said he only had enough money for one cassette. I told him to buy Journey's latest. He looked at me and said, "This better be a great album."
It contained Don't Stop Believin' and Open Arms.
The big album my senior year of high school was the eponymous record by Christopher Cross.
The album cover featured a flamingo in water, which conjured images that fit perfectly with the single, Sailing. Cross launched the musical genre of Yacht Rock.
For a San Antonio native who looked more like Larry The Cable Guy than a yacht captain, he did a phenomenal job of writing and playing the soundtrack of my senior year.
The spring of my senior year of high school, I had the whole world ahead of me.
We all did. We just didn't know it.
The 1980s had dawned, but the 70s were still with us in many ways. And one way was the music.
When you're no longer a kid, but not yet an adult, you look for answers in your music.
Forty plus years ago, that's where the kids found it. And after years of listening to little music, I have rediscovered it.
There's not much on TV in the middle of the night, so I often browse the random offerings of YouTube. One video that recently appeared was a 1980 clip of Christopher Cross playing Ride Like The Wind and Sailing live on The Midnight Special.
In a quick moment, I was transported back to 1980 to my Cutlass and its cassette deck.
Not long ago, Kent told me he enjoys dimming the lights in his home and putting AC/DC on the turntable for another listen.
For me, it'll be a digital delivery of Christopher Cross. I'll put on my shades, roll down the windows, and ride like the wind.
©2022 John Moore
John's new book, Puns for Groan People, and his books, Write of Passage: A Southerner's View of Then and Now Vol. 1 and Vol. 2, are available on his website – TheCountryWriter.com, where you can also send him a message and hear his weekly podcast.