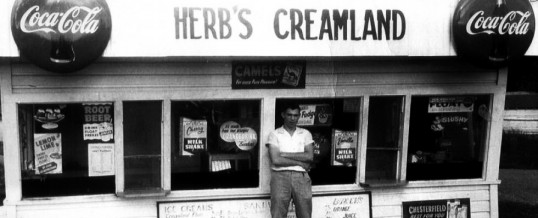 Chain restaurants are rapidly replacing what I believe has been one of the best facets of small town America: the local diner or restaurant.
Unexpectedly and unannounced, the drive-in in our small town closed last week. In fairness, it was a Sonic, which technically is a chain restaurant, but it wasn't a corporate location, it was locally owned.
Whenever we lose an eatery that was owned by someone who lives in our town, we lose a little bit of who we are.
After I learned that Sonic had closed its doors, I regretted not making the drive to it more often for a Number 3 with cheese, some onion rings, and a limeade.
In my hometown, Sonic was one of the first chain restaurants to open a location there. We also got a Pizza Hut. We thought that was pretty exciting stuff in the 1970s, but then again, we were also the same bunch who thought it was a major event when we got a traffic light to replace the flashing red one at the main four-way-stop.
The Sonic and Pizza Hut never supplanted our home-owned eateries. There was enough business for everyone.
But one thing is certain. It was never the Sonic or the Pizza Hut that were the culinary identity of our little town. From the 1960s through the 1980s, Mac's Cafe, Mesamore's Restaurant, and Herb's Creamland, were the main eateries for which Ashdown, Arkansas, was best known. Today, only Herb's remains.
Mac's began in a small building in Ogden, Arkansas. I don't know if it opened in the 50s or 60s, but I vaguely remember it moving the seven miles or so north to Ashdown on Highway 71.
Every restaurant had its signature dish, and for me, it was Mac's hot steak sandwich. Why it was called a sandwich, I don't know, because it wasn't. It was a chicken fried steak, smothered with gravy. The sides were fries, and a salad, with a piece of white bread toast, cut diagonally and placed on either side of the plate.
I loved Mac's salad dressing on crackers, and would eat that while waiting on my food order. I'm pretty sure that the salad dressing was mayonnaise and ketchup, mixed together with spices.
Mac's sat next to a truck stop, so many of the men who sat on the bar stools at the counter were driving through. As I would eat at my booth or table in the dining room, I watched them guzzle coffee, chain smoke, and hit on the waitresses. The jukebox would repeat the same Merle Haggard and Loretta Lynn songs.
Mac's was comfortable. It was part of who we all were.
Mesamore's Restaurant was our nice, sit down eatery. It had a meeting room for the local civic groups' luncheons. The fare at Mesamore's was more like a traditional menu. Fish, steaks, and chops were available.
Herb's Creamland, later just called Herb's, began as a tiny stand on the side of the highway. Opened in 1954, Herb's was and still is a mainstay in Ashdown. A trip through my hometown isn't complete without a Herb Burger and a basket of fries. I know that it has been in business at four different locations over the years. It was the hangout for all of us from the time I was about 12, until I moved away after high school.
Herb was my cousin. We lost him a few years ago.
Tyler and East Texas have been my adopted home for 30 years. I moved here in February 1987. The kind folks here welcomed me with open arms, but one of the best favors they did for me was to introduce me to the best local eateries.
Some are now gone, but a handful remain. Fuller's, which was located on Front Street, is now an empty lot. Other favorites over the years have included D's Coffee Shop and Cox's Grill.
My favorite, hands down, of the remaining old-school restaurants in Tyler is Loggin's. Located on Glenwood, Loggin's began in the 40s as a drive-in. Now, it offers a daily lunch buffet with all of the dishes that remind me a lot of Mac's Cafe.
Chicken-fried steak, mashed potatoes and gravy, catfish, and some of the best pie you'll ever eat, is just the beginning of what you'll find. When strawberries are in season, try the strawberry cobbler. It's amazing.
Eating out is a treat. But the next time you do, consider supporting the locally-owned eateries. They truly are part of who we are and what makes our towns great. And I'd like to see them stay around for generations to come.
©2017 John Moore
To read additional blogs, visit johnmoore.net/blog