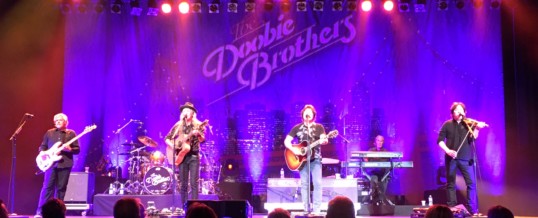 When I first picked up a guitar in 1970, my fingers didn't make the sounds I wanted to hear. But I knew that if I kept trying, I could learn to play the songs I heard on the radio.
I was eight.
My teacher's name was Mike and it was in his room in his parent's home that I learned the foundations of what makes the guitar an amazing instrument.
At first, it was daunting. I was forming the chords with my left hand and holding the pick and strumming with my right on a guitar that was almost as big as I was. The 50's era red and black acoustic belonged to my dad. The neck was wide and the strings were thick, but with blisters on my fingers, I kept going.
At age 10, a song came on the radio that had an opening riff so infectious, I was determined to learn it. That song was "China Grove," by the Doobie Brothers. The crackle of my AM radio accented the song as it rode the late-night waves from WLS in Chicago to my small bedroom in Southwest Arkansas.
Gosh, I loved that song.
By age 14, I was playing in a garage band. In the 1970's, every high school had at least one group of four guys who were able to convince their mothers to take turns lugging them and their gear from one house to another to practice.
More often than not, Doug, Paul, Keith and I would practice at my house. I'm not sure if that was because we had a large game room with doors that served as protective barriers for my mom in the house and our neighbors on our street, or if it was just easier than my mom having to fill the trunk of her 1971 Buick Electra 225 Limited with my gear and take me somewhere else and then pick me up.
Our band began by learning Johnny B. Goode, Jailhouse Rock, and other rock standards, but we eventually learned China Grove. I was very happy.
At age 17, I got my first job as a radio DJ. Our local station, KMLA (the K being a letter that virtually all stations west of the Mississippi start with, and MLA stood for "Millwood Lake Area"), hired me to work 8 p.m. until midnight.
Two years later, the rock station in nearby Texarkana, KTFS, brought me on for the same shift.
One of my favorite things to do at both stations was to cue up the vinyl record, fire off the local station ID at the top of the hour, hit the start switch on the turntable, and play China Grove.
"It's Ten-oh-five at 14-KTFS, Solid As A Rock. And here are the Doobies, and China Grove."
"…When the sun comes up on a sleepy little town, down around San Antone. And the folks are rising for another day. Round about their home…"
At age 20 while working at KTFS, the owner gave me tickets to see the Doobie Brothers perform in Dallas at the now-gone Reunion Arena. Jim was a nice guy. He knew how much I loved that band, and at the time, they were on their farewell tour.
The highlight of the concert for me was hearing China Grove.
Around the same time that the Doobies were breaking up, so was the band I was in. I mothballed my guitars and amps, got married, had kids, finished college, and held real jobs.
My parents, along with most other sensible people, never really considered playing in bands or working in radio, real jobs. For the most part, they were right.
But after I left radio, I began working with a couple of guys who played guitar. We began to get together and play the old favorites. We took turns playing at each other's house, but most often, we wound up at my house. I'm not sure if that was because we lived in the country and had doors and distance that could protect my wife and the neighbors, or if it was because my buddy's wives had a low pain tolerance.
Either way, I'd always try to slide in at least the opening riff to China Grove during each jam session.
After a few years apart, the Doobie Brothers reunited and began touring again.
Knowing how much I love the band, recently, my boss bought me a ticket and invited me to go with him to see the Doobies when they came through town.
Our seats were excellent. About seven rows back from center stage.
The lady who did the introduction surprised us. She said that we could take pictures and shoot video with our phones. And so I did.
The band took the stage and they rocked it. Almost 36 years had passed since I last saw the Doobies and they sounded as great as ever.
I kept my phone ready and hit record just as they fired off China Grove.
When I got home, I wasn't sure what kind of audio quality I would have, but after uploading the video to my iPad and then to Facebook, I was very surprised at how great it sounded.
I made a post to Facebook to share this Classic Rock greatness with others. And I did it in my best, dusted-off radio DJ voice from days gone by. If you'll allow me, I'd like to also do that for you now.
"…Its Twelve-Oh-five at my house. And here are the Doobie Brothers, on my iPad…with China Grove."
©2018 John Moore
John's new book, Write of Passage: A Southerner's View of Then and Now is available on Amazon. Email John at john@johnmoore.net.