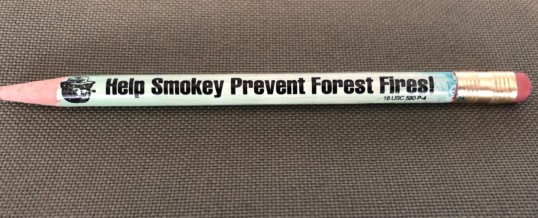 I'd hit the wall after hours of moving furniture. I couldn't go any longer and had to sit down. I'm no spring chicken and my back was letting me know it.
Moving a family member who has over 60 years of stuff takes awhile, so even if you sit a spell you really need to keep the momentum going. If you don't, it's likely you'll decide you're done for the day. And that wasn't a luxury I had.
What I needed was a working respite.
My wife and mom had identified the perfect task – going through decades of pens and pencils to see which ones still worked and were worth keeping.
Most homes have a container (could be a small metal can, a tall plastic cup, or in my mom's case it's an antique piece of crockery that has Wesson Oil in blue letters on its side) that holds pens and pencils that were picked up for free over many decades.
Pencils typically stay good forever, save the erasers which can dry out and become brittle. But ink pens can and will dry out – especially if someone turned them upside down in the Wesson Oil crock.
My task during the moving break was to test each writing apparatus, toss the ones which no longer functioned, and place the good ones back in the holder.
I was up for that.
What started out as a mundane break took a turn down Memory Lane.
On the sides of the pens and pencils were the names and logos of places I used to go and people I once knew.
The first pencil I pulled out was from First Federal Savings and Loan. Painted white with the name in blue, it represented where my mom spent most of her career. Like most businesses at the time the pencil was made, First Federal was locally owned.
I turned the pencil and took in the memories. My mother worked for this financial institution for over 40 years.
As an adolescent I would ride my bike by her office and deposit the few dollars I had made that day mowing lawns. I can still see her standing behind the counter with her hair in the style of the time – ringlets on each side.
Like most financial institutions, First Federal was absorbed by a larger company, which was absorbed by a larger one, and so on.
One of the vestiges of its existence was sitting in my hand, ready to be used as needed.
I placed the pencil in the Wesson Oil crock and picked up the next.
Smokey Bear looked back at me and asked for my help.
"Help Smokey prevent forest fires!" the words screamed out.
Smokey is one of America's earliest ecological mascots. When I was in elementary school, he and Woodsy Owl were well known. I wondered if I had brought this pencil home from school. I couldn't recall.
Placing Smokey next to First Federal, I then pulled out an ink pen. Scribbling on a notepad, the pen still worked. Rolling it over revealed the name of a relative who had run for and won the county judge job. He's been gone for awhile.
Adding the political pen to the growing collection, I went through dozens of other writing utensils. They included places I had worked, gone to school, or had visited.
Some pens still worked, while others were discarded. But both pencils and pens took me to places I'd already been. Places I could now only go in my mind.
I placed the Wesson Oil crock, now filled with only a few working pens and lots of pencils, on the counter to be packed away and moved on to the next place they would go.
I gave my mom a peck on the cheek and a hug. I took one last glance at the house and drove home.
The next time I see her she'll be somewhere new. But she'll have her pens and pencils. All of which represent what each of us do as we pass through life.
Leave a mark.
‪©2019 John Moore‬
‪John's book, Write of Passage: A Southerner's View of Then and Now, is available on Amazon and Barnes and Noble. You can reach John through his website at www.TheCountryWriter.com.‬