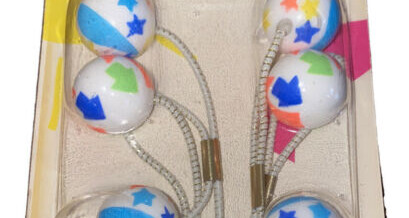 The curling iron changed things. From the male perspective, not necessarily in a good way.
It's the amusement of women's approach to fixing their hair that men miss.
No doubt, the curling iron is efficient. A lady just plugs it into the wall, adjusts the heat, and curls her locks to her liking.
But as a son, brother of a sister, and a guy who dated in the 70s, I miss the orange juice cans, the pink spongy rollers that snapped when locked in place, bobby pins, the Goody's pony tail holders, and the chair hair dryers that looked like a helmet.
This was back in the days when older women had beehive hairdos that you could hide a Ford Pinto in, and younger girls had wings that Olympic skiers could use to practice for a gold medal.
The best part of women using these items was their absolute aversion to be caught using these items. This made young men such as myself make every effort to sneak in with a Polaroid and snap as many pictures as possible.
Women don't liked to be seen, much less photographed, without their makeup. But to be seen with large Minute Maid cans spaced across their head and photographed without their makeup would get you chased through the house.
This scene made even better Polaroids.
If you took the photos of your mom, you got grounded. If you took the photos of your sister, you could trade the pics to her in exchange for her doing your chores for a month. If you took the photos of your girlfriend…well, it turns out it isn't wise to take photos of your girlfriend when she's wearing orange juice cans. I'll just leave it at that.
But the curling iron changed all that. It got rid of the fun. There isn't anything bribable about a picture of a woman curling her hair with a ConAir iron.
However, when the electricity goes out, and your wife has flat hair, you do get chased around the house If you ask "Is your hair taking the day off?, or Who are you? How did you get in here and what have you done with my wife?"
Not that I'd ever say either of those things, of course.
Besides orange juice cans and spongy pink rollers, women also no longer seem to use bobby pins. I don't know Bobby, but she has to be disappointed in the drop in business.
And what happened to pony tails? They were the perfect out if a girl didn't want to save up Minute Maid cans or look for the spongy pink rollers. She could simply pull her hair back and wrap it with a Goody ponytail holder, or make a tail on each side of her head.
Today, it's all about the electric curling iron. I do remember that before the curling iron, some girls would actually iron their hair on an ironing board. That was after they washed their hair in beer.
I never understood the ironing board approach, but I have had beer in my hair during my college days.
I guess times must change, but I do miss the chance to blackmail the ladies with Polaroids of orange juice cans.
I'm a little old for those sorts of pranks now, anyway.
But I do know where the master breaker is to turn off the electricity. Just in case I change my mind.
©2020 John Moore
John's books, Write of Passage: A Southerner's View of Then and Now Vol. 1 and Vol. 2, are available on Amazon and on John's website at TheCountryWriter.com. His weekly John G. Moore Podcast appears on Spotify and iTunes.