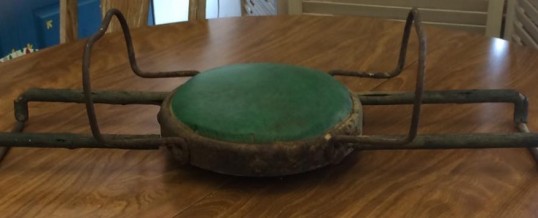 I saw something this week that I hadn't seen in almost 50 years. At first, I stared, puzzled, at the photo my aunt had posted online from her antique shop. I recognized the item, but just couldn't place it. Then it clicked.
It was a barber chair booster seat.
The long, heavy metal base supports a frame that, in turn, supports a small round seat, which, in turn, once supported the bottoms of boys while they got their hair cut.
I used one of those seats for my trims. Mr. Burl Walker ran the barber shop in Ashdown, Arkansas, where my mom, dad, and grandparents took me. The shop was located in one of the town's oldest buildings, near the only blinking red light, where Highways 71 and 32 intersect.
My mom said that I was taken there for my first cut when I turned one. I don't remember that, of course. My first recollections of a barber shop haircut there when I was three or four.
I would sit quietly in a chair waiting my turn, playing with a toy or looking at the pictures in one of the comic books that were plentiful, while the men would talk about politics, fishing and hunting, or women.
I learned early on that men would say things to each other in a barber shop when the ladies weren't around, that they wouldn't say to each other anywhere that they were.
"Son, are you ready?" The barber would ask me. "Yes, sir," I'd reply.
"Well, get on up here!" He'd say.
He would dust off the booster seat and lay it across the arms of a barber chair that had more chrome on it than a 55 Oldsmobile Holiday Coupe.
I'd climb the metal step on the front of the chair and then balance myself on the round seat. The barber would then sling a cape around me and start cutting, while listening to the other men in the shop carry on their conversations about the aforementioned topics.
I'd raise my hand out from under the cape to wipe the trimmed hair out of my eyes, nose or mouth, and I'd be told to be still. I'd then try to pucker my lips in a directional manner that allowed me, almost always unsuccessfully, to 'poof' the loose hair from my face.
If I'd behaved during my haircut, sometimes I'd be given a nickel to buy a Grapette from the Coke machine. I'd climb into the back of the '60 model Buick Le Sabre and sip that Grapette all the way home.
A few years later, Mr. Walker moved his barber shop to the south of town, and a Mr. Snow joined him. By this time, I was able to ride my bike to the barber shop.
With a quarter in my pocket for a haircut, and an extra dime for a Grapette from the Coke machine, I'd walk in on my own, no longer needing an adult with me or that kid booster seat.
At that age, I had become obsessed with comic books. I noticed that the comic book stack in the barber shop never seemed to change, so I asked Mr. Walker if he'd like to trade some. I'd get some I wanted to complete a series, and he'd get some newer ones in his stack. He agreed, and we traded a few times over the years.
Then came high school. Looking back, I wonder how barbers survived the 1970s. I'm not sure I got a haircut between the 9th and 12th grades. This didn't go over very well with my father at all, but I'm sure it affected the barber business far more than my dad.
These days, I try to get a haircut every couple of weeks. When I go, I no longer see any Coke machines with Grapettes for a nickel or any comic book stacks. And a haircut has gone a bit above a quarter. Also, booster seats are no longer made of heavy metal, they're now formed from plastic.
I look back fondly at the old barber shop days. The older men I recall from the shop back then, is the group of which I'm now a member.
But, I'm grateful. At least my hair is just turning gray and not turning loose.
©2017 John Moore
Read additional blogs at johnmoore.net/blog