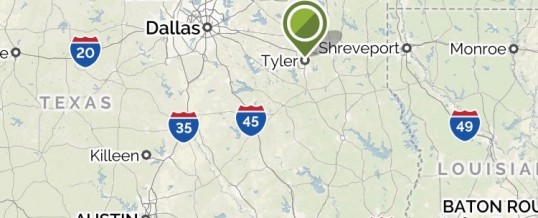 "Where the heck is Tyler, Texas?"
My question didn't surprise the guy on the other end of the line, and he chuckled.
It was early 1987. I was a 24-year-old disc jockey with a young family, and the job I had at the time just wasn't working out. Shockingly, six months into the gig, the manager at the station reneged on my compensation package and cut my salary.
If you aren't familiar with the radio business, being lied to and underpaid are hallmarks of the industry.
After my meeting with the boss, I went to the control room, picked up the phone and called my buddy Troy. We'd gone to college together and worked at the same album rock station in Texarkana.
Troy had moved on to another market. Last I'd heard, he was in Longview, Texas. But when I reached him, he said he'd left the Longview station and was working at KNUE in Tyler. I'd heard of and been to Longview, but not Tyler. He assured me that the distance between the two cities was negligible, and that Tyler was a great town.
I got down to business. I told him that I needed a different job, and that if he knew of one in Longview, Tyler, or even Walla Walla, that I was interested. I had bills, small children, and a lying boss, and I needed to make a move sooner rather than later.
He said that my inquiry was timely since someone on the AM station in the building, KTBB, had just taken a job in Florida. Personnel had been shifted around and the vacant position was the sports director's job. I'd work the early shift on both KTBB and KNUE. I asked him for the name and number of who I needed to call.
Within a couple of days, I had an interview and drove to Tyler with my wife. The general manager and co-owner of the stations took us on a tour of Tyler. He talked about the town's history as we cruised around the Azalea District with its stately homes and manicured lawns.
I was offered the job. I asked for a couple of days to think about it.
On the drive back to Texarkana, I told my wife, "Ya know, it seems like a nice place. But, I don't see us being there longer than a couple of years. I think we should take it."
When the industry was at its pinnacle, the radio business was nomadic for the on-air talent. It was much like a ladder, with each higher rung representing a bigger market. If you expected to succeed, you had to move a lot. The goal was to work your way up to a large market.
There, you would finally make decent money. The lying would still be present, but at least the pay made that less painful.
She agreed to move.
Tyler was a bigger market than Texarkana, and it was also exactly midway between Dallas and Shreveport, and near Houston. The idea was to get noticed by someone in one of those cities while working in Tyler. Bigger markets trolled smaller markets for new talent, and my hope was to be plucked by a major market station.
But, a funny thing happened. I liked Tyler. A lot. So did my family.
Two years turned into three, and then five, and then 10.
I made lots of new friends and business acquaintances. I was promoted to morning drive host on KNUE, a position I held for a decade.
Other job offers came, including one in Houston, but I turned them down. I didn't want to leave.
As the radio industry morphed into a giant iPod, which required no live announcers, I left the business, but I stayed in Tyler.
Ten years turned into 20, then 25.
Last week marked 30 years.
It's funny how events that seem like the smallest of things at the time can turn out to be the pivotal moments in your life.
Had I called someone else besides Troy, or if he hadn't answered the phone, I would've wound up in some other city. I wouldn't have the friends or the memories I now have. My children's paths in life would be completely different.
But, it was the people of Tyler who made me want to stay and have made me feel as if I belong here.
And after three decades, I have no doubt that I do.
I thank those in Tyler and East Texas who welcomed me with open arms and adopted a 20-something year old kid who was looking for a rung on a ladder, but instead found a home.
Thanks to you, I didn't wind up in Walla Walla.
©2017 John Moore
To read additional blogs, visit johnmoore.net/blog