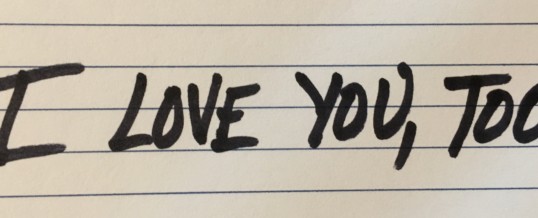 You can always tell from the timbre of the voice of the person on the other end of the line when bad news is coming.
A thousand things go through your mind during the milliseconds between the realization that what you're about to hear will change your life forever and receiving the rest of the message.
It was my father. He asked if I was sitting down.
My mother had just left a couple of hours earlier from a visit with my wife and was headed back to Arkansas. I assumed that he was about to tell me that there had been an accident.
There had been no accident. My mother was fine.
My sister was not. She had died of a heart attack.
She was only 52.
The bottom fell out of me.
The days that followed were a whirlwind of travel, notifying family and friends, making arrangements, and overwhelming grief.
Time seemed to move at light speed one minute and stand still the next.
It was surreal.
As I tried to make sense of it all, two things emerged in my mind. One, she passed in her sleep, which was a blessing. Two, she was at a good place in life when she went.
There's never a good time to go, but she was at about as good of a place as you can be when she went to be with the Lord. She had a family who loved her, three grandchildren, and a job she found rewarding.
My sister was an outgoing person. But, she wasn't always that way.
As a child, she was scared of a lot of things. She was afraid of people she didn't know, afraid to have her picture taken, and she was terrified of Santa Claus.
There was just the two of us, and as her older brother it was my duty to advise her that being afraid of Santa and refusing to have your picture made with him was a great way to have Santa skip our house on Beech Street come Christmas morning.
I can remember riding in the back seat of our '60 model Buick Le Sabre on the way to Sears to see Santa and telling her that she needed to not cry or she was going to blow it for the both of us.
The photos of us with Santa show my sister with bloodshot eyes and me with an ear-to-ear grin. In spite of my warnings and her crying, Santa still came to see us.
But, as she got older she came out of her shell. She had lots of friends, made the cheerleading squad, and was one of the prettiest and most popular girls in her class.
She was smart. Good grades came easy to her. She was artistic. Her drawings and sketches won awards.
My buddies hung out at my house fairly often. We were a couple of years older, so we found my sister and her friends to be highly annoying. That is until they were about 14 years old.
Suddenly, my sister's friends weren't so annoying. My buddies and I began to encourage them to visit the house more often.
I eventually graduated, left home, and started a family. So did my sister.
She worked in a number of different fields during her career, including the legal profession and in the restaurant business. But it was her final career field where she found her true calling: home health.
I honestly don't know how she wound up getting a job taking care of people in their homes, but it was obvious that she had a passion for it. The way she talked about each person she took care of sounded as if she was describing one of her own family members.
It takes a special person to do that type of job. Her hours were long (10-12 hour shifts), the work was hard, and often, those she helped were handicapped, had a disability, an end-of-life illness, or all of the above. But, her feelings for each of those she served were real.
It amazed me that this was the same person who, decades earlier, cried around people she didn't know.
My sister had a life like most. There were ups. There were downs. But, she always stayed positive. If there were obstacles in the road, she went around them. If there were fires, she put them out.
She loved to laugh. She loved to make other people laugh. My sister always enjoyed a good joke and tried to have a new one for you when she saw you or talked to you.
And she always ended our conversations with, "I love you."
But, I wasn't the only one to whom she said that. She ended all of the conversations with those she cared about with, "I love you."
Goodnight, Renee'. I love you, too.
©2017 John Moore
To read additional blogs, visit johnmoore.net/blog