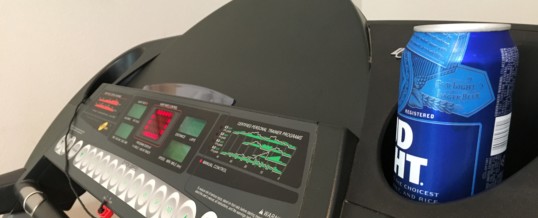 I understand that people have to make a living, but sometimes, the markup on repair services borders on ridiculous.
Case in point: I was recently walking on the treadmill, when it suddenly just stopped.
Now, I know that this is shocking, but try to get past the part about me being on a treadmill and focus on the rest of the story.
We bought a state-of-the-art treadmill from Sears back in 2002. The guy sold me this newfangled piece of exercise equipment that has a digital readout, a motor that adjusts the height of the walking deck, and a plug in the back that he said would connect me to the Internet.
The first two things seemed nice, but the last one I never did figure out. I guess there are people out there on the Internet who want to monitor random folk's exercise progress.
All I wanted was a way to walk in the house where there was air conditioning so that my doctor, wife, and Jenny Craig could all be happy.
To be honest, I used the treadmill at first, but it sat idle for many years, being used off and on. Mostly off. However, it has come in handy as an extra place to hang laundry.
Recently, I went back into the On mode, and was once again using the treadmill. As I mentioned earlier, one day while using it, it just stopped.
There were signs that it was acting up. It would slow down, then speed up. Then, it just quit.
So, naturally, we called Sears. The conversation went like this:
Sears: "Yes, we can fix your treadmill. The circuit board is $400-$500, plus about $200 labor, plus a service call charge. We only do that on Tuesdays, so please be there all day between 8-5 and we'll come sometime, but can't tell you when. Or, we can sell you a new treadmill with a warranty for less than that."
Me: (Buys circuit board on eBay for $99 with free shipping and installs it in half a beer. Gets back on now-working treadmill and goes back to what he was doing.)
Honestly, I don't know why, since I worked in the radio business for 25 years and was told directly by those in different industries what services cost and what they charged for them, that I was surprised.
But, seriously? Fixing a 15-year-old treadmill costs more than a new one?
This reminded me of when our Jenn-Air cooktop had a fan switch go out. We didn't buy this cooktop, it came with the house. But supposedly, it's a nice cooktop.
It has removable cook surfaces, which are interchangeable with some inserts that allow you to grill in the house. That's where the fan switch comes in. If you are creating a lot of smoke, the exhaust fan sucks the smoke out so that the fire department doesn't pay you a visit.
One day, while boiling some water to make the beer that I drink while repairing broken treadmills, the on/off switch snapped. So, I looked for a number on the Internet (I used my computer to log on, since I never figured out how to get on the web with the treadmill) to call someone about a replacement switch.
The conversation went something like this:
Jenn-Air Parts Person: "I'm sorry, Mr. Moore, but that part is no longer manufactured. However, we can direct you to your nearest Jenn-Air dealer, where you can replace your cooktop starting at just $2,199."
Me: "Click."
It took about a beer and a half, but me and a tube of Super Glue successfully reassembled and reinstalled the broken exhaust fan switch.
Another instance of ridiculousness was the deck on my John Deere 42-inch lawn tractor. One of the guide wheels broke off of the front, so I went online (on my computer, not the treadmill) to look for a number to see what replacing the deck would cost. There was nothing wrong with the motor or transmission, so I thought I'd just replace the deck.
John Deere: "Mr. Moore, that deck is $750, not including shipping."
Me: (response deleted)
This is a $1,200 lawn tractor that's at least a dozen years old.
It took about two beers for me to take the deck off and weld the wheel back on.
I sometimes wonder if companies have just completely lost touch with reality. Regular folks are not that stupid. If there's a workaround, we'll find it. And normally, I have.
The good news is I'm about to brew some more beer, and both the treadmill and the lawn tractor have beer holders.
Now, I just have to figure out how to get on the Internet with the treadmill to find out how long I have to walk to burn off all these calories. Without spilling my beer.
©2017 John Moore
John Moore's new book, Write of Passage: A Southerner's View of Then and Now, is available on Amazon.