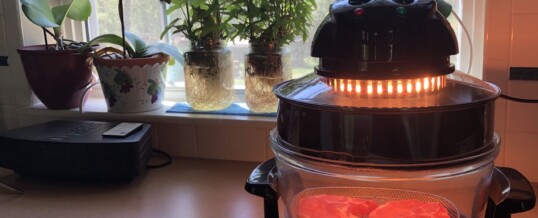 If there's anything crueler than insomnia; it's insomnia topped with a weakness for cooking gadgets sold on 3 a.m. infomercials.
Of course, I'm blessed with both.
Let's face it. Cooking requires just two things: Something to cook, and heat.
So, why is it there are so many different ways to cook, and why do I feel it mandatory to own all of them?
The short answer is that I'm a sucker. I'm exactly the guy the people who make infomercials are looking for. Someone with sleep deprivation and access to a credit card.
In fairness, I do use every gadget I buy, but the problem is we're running out of countertop space.
Actually, we ran out of countertop space in 1996.
After acquiring an air fryer (my latest solution to try and eat healthy and do it in record time), my wife drew a line in the sand.
It wasn't really sand. It was cornmeal from the last time I breaded okra when we still had countertop space. Nonetheless, the line was drawn.
The air fryer can prepare a chicken, beef roast, or turkey – but it can also bake cupcakes. According to the Australian guy who hawks these things on my TV while the rest of the world is asleep, there really isn't anything the air fryer can't cook.
So much for the eating-healthy-in-record-time thing.
But, as you might expect, anything that can hold a chicken or turkey is going to be large.
How large? Well, I didn't really think this through since when I tried to place it on the counter, I was surprised at how big an air fryer actually is.
It's approximately the same size as the headlight bezel from a 1958 Chrysler Imperial. If you add the spacer ring, you'll need to add a taillight from a '55 Oldsmobile Holiday Coupe.
I had a similar issue when I acquired an Instant Pot for Christmas a few years ago. The electric wok was sent down to the minor league and moved from the countertop to the cabinet, where it now sits next to the Cuisinart food processor.
After moving over the Instant Pot, 1957 GE toaster oven, Keurig coffee maker, and Bose Wave Radio, I was able to squeeze in the air fryer.
Barely.
Before preparing to test drive it with a couple of pork chops, I decided to plug it in and make sure it worked.
Locking the lid handle, on came the cooker. An orange glow softly began emanating from the underside of the lid. It bathed the kitchen in a light from the same end of the spectrum that those who claim to have been abducted by aliens say they see.
Cool. A cooker that can handle a turkey and cupcakes, which also looks like a UFO is always a bonus in my book.
"Where do you plan on putting that when you're done?" came the question from my wife from the other room.
She was right. I'd already sucked up all of the storage in the cabinets with the bread maker, food processor, blender, yogurt maker, hand blender, three crockpots, and now the electric wok.
Ah, I'd worry about that later. I needed to fire up my UFO and try these pork chops.
"Lightly spray rack and screen with choice of oil to prevent sticking. Set temperature to 225 and timer to 20 minutes."
The instructions seemed easy enough.
And, we're off.
The glow was on, and the pork chops began to sweat.
So did I. I've never cooked with anything like this. Do I stand here and make sure this goes along OK? Do I go back to my TV show and diet soda and just trust this thing to stay where it is and not take off out of the window and orbit earth a couple of times?
If it does, will it bring back my pork chops?
I decided to trust it. If I could trust an Instant Pot pressure cooker, I could trust a UFO with my dinner.
The timer went off and after extricating myself from my La-Z-Boy without spilling my drink, I let the lid cool and then removed the chops from inside and onto a plate. Slicing off a piece, I tried it.
Tender and excellent. Much better than I had expected, considering I'd put absolutely no seasoning on them.
This was a win. It works and it works well.
I feel vindicated. I also feel tired.
I need to take a nap so that I'll be up in time to watch the newest infomercial.
Maybe while I'm asleep my wife will have found a place to store the air fryer.
©2021 John Moore
To send John a message; buy his books, Write of Passage: A Southerner's View of Then and Now Vol. 1 and Vol. 2, or listen to his Weekly 5-Minute Podcast; visit his website at TheCountryWriter.com.