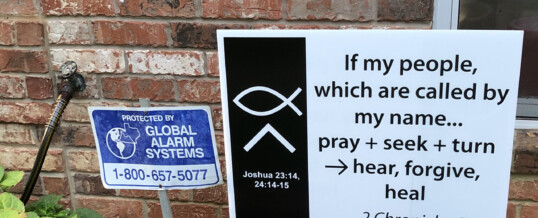 Do signs really change anyone's mind?
We must think that they do. We buy and put out a lot of them.
Some signs are intended to sway your way of thinking, while others are meant to be funny.
Sometimes, they're meant to be the former, but wind up also being the latter. In other words, the intended message gets lost and winds up being amusing.
For example, when I was driving past the lake, I saw 59 Trump signs; 1 Biden sign; and 12 crawfish signs.
The takeaway for me was that Biden is losing to crawfish.
Probably the earliest use of signs was cave paintings. The renderings depict brave hunters chasing down a mastodon and bringing it to the dinner table using just a spear and raw courage.
The sign saying, "Good hunting found here."
We never see the depictions of the ones where the caveman chunks his spear to the ground and runs for his life. The guy in that story wasn't available to draw that sign for us.
Which brings me to the next point. Signs always put the messenger's best foot forward. Just like on social media, where everyone has great photos, plenty of money, and their kids are flawless and gainfully employed; signs also seem to reflect everything being fine.
"Clean Restrooms" is a sign we see often along the side of the highway, but upon closer inspection of said restrooms, rarely do we find that they actually are.
Also, signs don't always communicate clearly. When a redneck sees that same sign, he might take it as a mandate and leave the men's room at the Texaco spotless on his way to the dirt track races.
One type of sign we never used to see, but we now see regularly, are yard signs. The only sign I like in my yard is the one that lets folks know we have a burglar alarm, and consequently, a system to catch them, should they decide to try and take something of ours.
We also recently added a sign with a spiritual message next to the burglar alarm sign.
I figured good spiritual messages could come in handy if that's the last thing you read before breaking into someone's house in Texas.
But do signs actually change people's minds? We have a neighbor who must thing so. He has a huge political banner hanging on his fence, indicating whom he supports for president. He's already sold on the politician, but will that message actually convince someone else who reads the banner to cast a ballot for him?
Maybe, but I'm of the opinion that the most effective signs aren't ones that proclaim clean restrooms or support politicians, they are the ones that warn us of danger or tell us how to get to the farmer's market.
If I see a sign that says, "Beware of falling rocks," I tend to take that sign seriously. It's quite likely that a boulder took out some fella who was minding his own business while he was on his way to clean the men's room at the Texaco and then on to the dirt track races.
And like most husbands, when I'm driving, I'm wired to not stop for a break on road trips unless the women in the car are screaming that they can't wait any longer, or I see a farmer's market sign.
I'll spend my last nickel on fresh fruits and vegetables – especially ripe tomatoes and cantaloupes.
The guy selling the produce gets extra points if he misspells cantaloupes on his sign.
Signs are enough of a big deal to humanity that one of the most common (I didn't say best) pickup lines is, "So, what's your sign?"
Some folks deem astrological signs so important that they believe in a connection between where and how the stars shine and a statistical variance in the universe that swings attractive members of the opposite sex their way.
Yes, some signs do work. Keep in mind though, that many of these signs are more informational than motivational.
So, if you're going to put signs in your yard, choose wisely. I won't tell you what signs you should stick in the ground, but I do believe that it's only fair to provide some spiritual guidance to folks who like breaking into houses in Texas.
And remember, vote Crawfish on November 3rd.
©2020 John Moore
John's books, Write of Passage: A Southerner's View of Then and Now Vol. 1 and Vol. 2, are available on Amazon and on John's website at TheCountryWriter.com. His weekly John G. Moore Podcast appears on Spotify and iTunes.