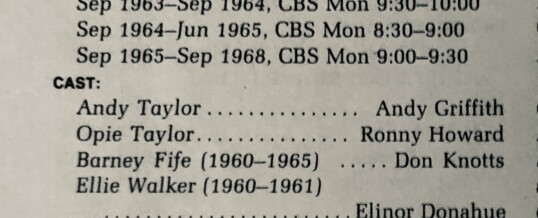 My sister and I couldn't read yet, so even though the TV guide sat next to my father's chair, we never had any idea what was coming on TV during the weekend.
On weekdays, we knew what was on. Unlike television programming today, the networks generally left television shows alone so that people could find them. On Monday night, there was Gilligan's Island, The Lucy Show, then The Andy Griffith Show.
And The Andy Griffith Show was one of our favorites. Especially Barney. Or, Don Knotts. That was his real name. But when you're a kid, TV characters are real to you. So Don Knotts was Barney.
When Barney began making movies, my sister and I were especially happy. Thirty-minutes of Barney was great, but 90 minutes or two hours of him was a special treat.
That's why on a rainy Saturday we would watch and wait for the airing of something good to watch. And a Don Knotts movie was like a Christmas present.
Matter of fact, it seemed that his movies often aired on a weekend around the Christmas holidays.
He made several over the years, including It's A Mad, Mad, Mad, Mad World, which included dozens of big stars from the era; The Incredible Mr. Limpet, the story about a man who becomes a fish (a fish with spectacles); The Reluctant Astronaut, which was about a man who was a janitor at NASA and is sent into space; and one movie that was our favorite:
The Ghost and Mr. Chicken.
We thought that The Ghost and Mr. Chicken was just the best movie ever made.
Knotts played a hapless (not a word I get to use very often) newspaper reporter who gets the challenging assignment to spend the night in an allegedly haunted house where a murder had occurred years earlier.
I don't want to spoil it for you if you haven't seen it, but Don solves the mystery of the house, the murder, and in the end he gets the girl (Sorry, I spoiled it for you).
Of course, when you put someone who plays nervous to perfection (like Knotts) into a haunted house, it's funny at its best. But it was also a bit scary for a couple of kids sitting in front of the RCA console TV.
It was the perfect mix of scary and funny.
Brothers and sisters don't always play together well, but The Ghost and Mr. Chicken brought us together. When it was on, our mother always had a couple of hours where we sat together, laughed, and only got up for snacks.
We continued to enjoy other Don Knotts movies and TV shows. We would go to Williams Theater in downtown Ashdown, Arkansas, whenever he made a new one.
I can still see the inside of the theater, with its glowing, blue neon lights behind the wooden trim, and the clock just to the right of the screen. We'd sit in the middle of the theater and wait for showtime.
The Shakiest Gun In The West, The Apple Dumpling Gang, and others always seemed to pack the movie house with families who also loved Don Knotts.
Don Knotts almost didn't become a part of our growing up years. When The Andy Griffith Show first started, Don wasn't in it. After it first aired, he called Andy, with whom he'd starred in No Time For Sergeants, and asked him, didn't he need a deputy?
Griffith later said in an interview that he didn't know that Don was looking for work, but had him call The Andy Griffith Show's producer. And Don became Barney.
Even after Don got the job on The Andy Griffith Show, he didn't start out as the funny one. Originally, Andy was to be the funny member of the cast and Don was to play the straight man. But Griffith said he realized quickly that it should be switched and that Don should be funny and Andy should be the straight guy.
I'm glad that they decided to go that route, because millions of us enjoyed a great childhood because of Deputy Barney Fife.
The last time my sister and I got to see Knotts in a movie was in a 1990s film called Pleasantville. Don played a mysterious TV repairman who shows up after a brother and sister break the remote while fighting over what to watch.
The brother wants to watch reruns of an old TV show called Pleasantville, and the sister wants to watch something else.
Don gives them a new remote, which transports them to the TV world of the town.
I won't tell you how that movie ends, since I ruined Mr. Chicken for you.
Don did return to TV after leaving Mayberry. He appeared on Three's Company, and later he teamed up again for the occasional appearance with his previous co-star Andy Griffith on the series, Matlock.
You hear about big stars who supposedly rank high in what they've contributed to American entertainment, but I believe that Don Knotts is one of the most underrated entertainers we ever had.
That TV guide my sister and I couldn't read early on, ranked Barney Fife as the number 27 all-time TV character. I think he should rank higher than that.
Because even though Don Knotts left us in 2006 at the age of 81, he still brings joy and memories when we see him today.
Especially earlier today, when The Ghost and Mr. Chicken came on the television. I watched it.
I just wish my sister was still here so that she could have watched it with me.
©2021 John Moore
John's new book, Puns for Groan People, and his books, Write of Passage: A Southerner's View of Then and Now Vol. 1 and Vol. 2, are available on his website – TheCountryWriter.com, where you can also send him a message and hear his weekly podcast.