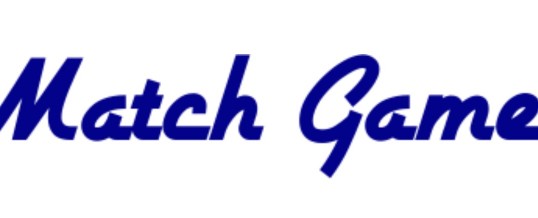 Once upon a time, daytime television was filled with game shows, people winning prizes, and funny celebrities. I miss those days, and one game show in particular. Match Game.
During the midday hours of the summer breaks in the mid-1970s, just about the only thing on TV that a kid wanted to watch were game shows.
We stayed with my grandmother during those summer days. She watched game shows too, but she mainly watched soap operas, or as she called them, her "stories." You could cheer and talk during game shows, but not during her stories. Talking during Days Of Our Lives or As The World Turns would get you sent outside to play.
There were dozens of game shows on during this era. Jeopardy, Let's Make A Deal, The $10,000 Pyramid, The Newlywed Game, Hollywood Squares, Password, and The Price Is Right (I attended a live taping of The Price Is Right in the 80s, but that's another story) were just a few of the best examples.
I currently have a TV with an antenna in my shop. I can pick up all of the local channels, many of which aren't carried on cable or satellite. Whenever I'm working on a project, I like to turn the set on and tune it to sports or an old cop show, such as Columbo. The background noise keeps me company.
During a recent project, I found myself stopping my project and turning to watch the TV. What caught my ear was the distinctive theme music of Match Game, and the show's announcer, Johnny Olson. Johnny was introducing Brett Sommers, Richard Dawson, Charles Nelson Reilly, and others.
Soon after, I was sitting in a chair and playing the game along with a gentleman who was wearing a pretty awful leisure suit, and with a lady whose hair was a copy of Dorothy Hamill's.
My broken lawn mower would have to wait.
Match Game was hosted by a man I consider to have been the best game show host of the era, Gene Rayburn. Gene had the rare ability to herd cats. In this case, herd celebrity cats.
The show consisted of six celebrity panelists who tried to match their answer to a contestant's answer, through a humorous, and almost always risqué-sounding question.
Gene would ask the fill-in-the-blank question, and the six celebrities would each write down their own answer on a card. They would then place the card into a slot in front of them. When all slots were filled, the celebrities' names would light up, indicating that they were done.
Gene would then turn to whichever contestant's turn it was and ask them for their answer. Each celebrity would then reveal what they had written down.
The more matches a contestant had, the more money they won.
But, as I mentioned, risqué answers were what the show's writers were going for. The trick was for each celebrity to answer the double entendre question with a response that matched the contestant's.
Dumb Dora was either pouring gravy on George's (blank), or Dumb Donald was using Suzie's (blank) as an ashtray.
You get the idea.
But, the Match Game that became a hit and spawned three additional incarnations of itself, was almost canceled before it got started.
In 1962, game show kingpin Mark Goodson thought he had a flop on his hands. Gene Rayburn was the host, but the ratings were terrible. Questions such as, "Name the color of a flower," and "What's America's favorite holiday?" weren't cutting it. The show was boring, and the network canceled it.
The show's writer, a man named Dick DeBartolo, who was also a writer at Mad Magazine, called Goodson and asked for a meeting. On his website, DeBartolo said that he asked for more of a Mad approach to writing the questions. He said that Goodman told him that NBC couldn't cancel the show twice, so with the six weeks the show had left, he could write what he wanted.
The ratings climbed, then soared, and for the next two decades, Gene Rayburn herded celebrity cats with great success.
In 1976, Richard Dawson left to host Family Feud, which, ironically, would overtake Match Game in the ratings and lead to the latter's demise.
Match Game was canceled in 1982.
But, through cable channels, including the Game Show Network, Match Game has been rediscovered by its original fans and by new fans, such as college students.
Three other attempts, with varying levels of success, have resurrected Match Game using different hosts. The latest is on ABC with actor Alec Baldwin.
However, none of the newer versions will ever recreate the magic of Gene Rayburn, Brett Sommers, Richard Dawson, and Charles Nelson Reilly.
If one does and proves me wrong, I'll be happy to go down to my shop and pull the plug on my (blank).
©2017 John Moore
To read additional blogs, visit johnmoore.net/blog