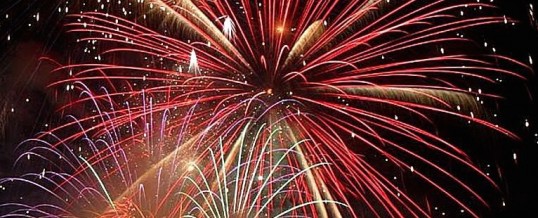 Independence Day is a great day to watch Independence Day.
Most families have their own holiday traditions. At Christmas at our house, it's serving specific dishes for dinner. At Thanksgiving, it's having a smoked ham.
At some point over the last decade, watching the movie "Independence Day" has become our Fourth of July tradition.
We usually grill something, thank the Good Lord for our country, and then sit down to watch Will Smith fight aliens.
It's a good time.
However, I miss the old Fourth of July traditions. All of the family would gather at someone's house or the lake to watch our grandfather proudly hand out charcoal-grilled burgers, all while instructing us on the proper way to serve ground beef on a bun.
Taking turns sitting on top of the hand-crank ice cream maker was considered a privilege when we were kids. To be allowed atop the unit, you had to be just heavy enough to keep the ice cream maker from moving around. We always wanted to be the one to crank it, but were told we were too small. That was a job for the bigger kids. "When you become too heavy for that job, that means you'll be old enough to take turns actually cranking it," they would tell us.
It wasn't until much later that we figured out that by getting us to beg to crank the ice cream maker, we'd been suckered with the same ruse Tom Sawyer used to get others to whitewash his fence for him.
We'd eat the vanilla ice cream too fast, and our heads would hurt. We'd run as fast as we could and pounce on the Slip 'N Slide, or run through the sprinkler. We'd play hide and seek, red rover, and dirt lot baseball with a plastic ball and bat.
As dark came, we'd all sit against the trees in our bathing suits and watch as the adults set off the fireworks they'd bought from the man at the roadside stand on the outskirts of town.
Tired, we'd all sleep soundly that night as our parents stayed up playing cards and drinking coffee.
In 1976, I was 14 years old. I remember watching the ships sailing into the harbor in New York as part of the Bicentennial celebration. Fireworks surrounded Lady Liberty. As I watched the festivities, I felt proud to be an American.
I still am.
My grandfather, and many of those in my memories are gone now. But, they taught us to love our country, and how to celebrate it.
The Founding Fathers gave us an amazing gift. But freedom should be celebrated daily, not just in July.
I salute those who paid the ultimate price for America. If you are a Veteran or are active military, thank you.
Let's not take this holiday for granted, but let's do enjoy it.
I'm looking forward to watching Will Smith fight the aliens while we eat charcoal hamburgers like my grandfather used to make.
I'm too old for the Slip 'N Slide and red rover, but I'll never be too old for homemade vanilla ice cream. At your house, see if you can't get the kids in your family to fight over who's going to crank the ice cream maker.
©2015 John Moore
To read additional blogs, visit johnmoore.net/blog