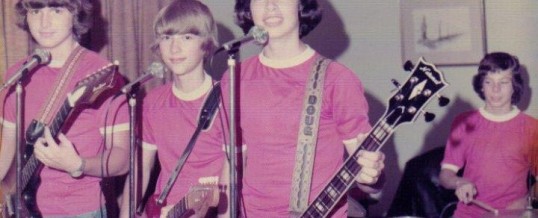 As I plugged the Stratocaster into my Fender amp, the buzz of the quarter inch plug made contact with the amp's input and let me know that the amp was ready when I was.
We live at the end of a dead end road in the middle of nowhere.
The location was strategic. It was a request I'd made years ago. I'd always wanted to live as far away from town as possible. Town was where the jobs were, but when I wasn't at work, I wanted solitude.
In the early 2000's, my wife found us the perfect place in the country. It is my perpetual vacation spot.
Our location, the fact that my wife was at her mother's, and the assurance that my nearest neighbor was in Florida on vacation, left me feeling quite guiltless about turning it up.
Loud.
With a nod to Joe Walsh, I hit the opening riff to Rocky Mountain Way. I tried hitting the high notes of the vocals, but I couldn't. I didn't feel too bad. Joe himself has a hard time hitting them these days. I'd seen him on TV the previous week.
I switched to a Zeppelin tune. Black Dog is a syncopated structure in an odd time. It felt good to play it.
Turning off the distortion, I set the amp to give me a clean, Telecaster sound.
I fired off Sweet Home Alabama by Lynyrd Skynyrd. On this tune, I could hit the vocal notes. I also remembered all of the words. It made me smile.
Songs by 38 Special, Queen, The Doobie Brothers, and other classic rock bands followed.
It took me back to my first band. I was 14 when three of my closest buddies and I decided to form a group. Completely dependent upon each of our mom's willingness to haul us and our equipment from one member's house or another, we practiced the basic tunes.
Proud Mary. Johnny B. Goode. Takin' Care of Business.
We were actually decent.
"Freedom", we called ourselves. Not surprising for a band formed during America's Bicentennial.
Our moms bought us matching red shirts. The shirts were nylon pullovers. They were made of the same material as football jerseys.
Later, I was invited to join a band called Trax. The name came from the brand on the bottom of one of the member's tennis shoes. Someone crossed their legs at the same time the band needed a name.
I played in a couple of country bands after that before hanging up my musical aspirations. Country wasn't my thing. My dream was to be recruited by the rock band Heart, so that I could back up Ann and Nancy Wilson.
The prospects for that weren't promising.
So, marriage, children, and a career took the place of scrounging up enough money from one gig to pay for gas for the van to get to the next.
But, some of my friends back then actually made it in the music business.
Kent wound up playing guitar for Dolly Parton. He still tours with her and produces her albums. Allen played drums for Kitty Wells and still travels in Nashville circles. Paul lives in and plays regularly in Las Vegas.
I kept my dream of being a musician alive by working for 25 years in the radio business. I met a lot of famous artists and bands, and even crossed paths with Kent a couple of times.
I was jealous. He was playing music on stage. I was playing it on the radio.
But, as I write this, I'm playing music again. Albeit, in my house at the end of a dead road in the middle of nowhere.
When I first learned these songs, they were new. They are now over 40 years old. But, to play them on the guitar takes me back to a time when I was a kid who wanted to be a star.
I was one of millions of kids in the 70's who spent their spare time trying to be the next Peter Frampton or Jimmy Page. But, like those millions of other kids, I also would never be Peter of Jimmy.
But, I've never stopped wanting to be.
I slid the Stratocaster carefully over my head, turned off the amp, set my guitar back in its case, and closed the lid.
I said a quiet little of word of thanks to my mom for stretching her 1970 household budget so that an 8-year-old boy in Arkansas could go once a week to learn how to play the guitar.
And another word of thanks that Johnny can still go, go, go.
©2016 John Moore
To read additional blogs, visit johnmoore.net/blog