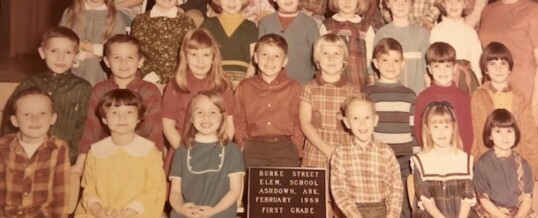 I can still smell the aroma of the freshly opened box of crayons and two sharpened Husky pencils. The distinctive scent of Crayola Crayons and shaved wood just smelled like the beginning of education.
Noisily rifling through the rest of my school supplies, my mother's voice rounded the corner from the kitchen and into my ears.
"Johnny, school doesn't begin for another week. Don't use your crayons and pencils up before you even start," she said.
I was so ready to go to school. Couldn't wait.
Mom was determined to get me in that year, even though my birthday fell so close to the cutoff date, they could have pushed to make me wait a year. It was mom's determination that I was ready at just barely six years old, which put me in the class of 1980 instead of 1981.
Burke Street Elementary seemed elusive. Only the big kids got to go there, I was told. It was my dad's way of setting up school as something I'd have to fight for. I had no idea it was mandatory.
Our house on Beech Street was about the same distance from the elementary and high schools. Standing on our front porch on Friday nights, I could hear the crowds cheering during the football games. Burke Street was quiet. It was where all kids started, my dad told me. And I would be no different.
Other than a flag ceremony in which I was asked to take part at age three, I had not seen Burke Street up close. The nearest I got was in our 1960 model Buick, as it cruised by the school on our way to my grandmother's house.
I'd cross my arms on the sill of the opened window of the Lesabre and, with chin atop of my arms, gaze at the school buildings as we'd glide by.
In 1967, there was no public kindergarten in Ashdown. First Baptist had a private school, but the rest of us just waited until first grade.
Summers in Southwest Arkansas are hot and humid. Air conditioning was a luxury few could afford then. Like the Buick, windows stayed open from March until October. It was a cool breeze for a cool era.
Registration day finally came.
To this day, no one can tell me why Burke Street had a main building on the campus and one narrow and long, smaller building off to the side. In this smaller building were three rooms. Each was a classroom that had high ceilings; transoms operated by a long stick, a blackboard the length of the room, and a bathroom.
There was a door into the room from the street, and a door in the back of the room that led to the playground. Both should have been revolving doors. While our moms talked with the teachers, the rest of us who would make up Mrs. Walker's class ran in and out of the room.
"Come over here, Johnny, and meet your teacher," my mom said.
I stopped running in and out of the doors long enough to say hello to Mrs. Walker.
She smiled at me and said, "Let's get your papers filled out."
"It's J-O-H-N-N-Y," I said. Making sure that she got it right.
"Yes," she answered. "It sure is."
School seemed promising. My teacher and I spelled my name the same way.
My mom stayed at home until my sister and I both started school. At the time, it seemed so boring to be at home waiting to be old enough to start my education. Playing in the yard, riding bikes, and running around with the neighborhood kids were the only ways to avoid soap operas and the Today Show.
Yes, school was my ticket out. I was going to Burke Street. I was a big kid now.
Mrs. Walker taught us our letters using the "Mother Alphabet" analogy.
"Mother Alphabet had a letter today," she said. "That letter is the letter A. It's her first letter. She'll have more letters – 25 more."
"Wow," I thought. "That's a lot of letters."
We learned what each letter could do. The letter A could be a word by itself, part of other words, and it could sound two different ways. There was a lot expected of the letter A, since it was the oldest. I could relate to that.
Mrs. Walker taught us how to spell, write, and do math. She took us to lunch every day and let us play at recess. Like Mother Alphabet, Mrs. Walker had lots of children. We were her children, she said.
Like my crayons and Husky pencils, the year got shorter and shorter. One day, Mrs. Walker said that we had done all that we could do in her class. It was time for us to take a summer break and then go to someone else's class in the fall.
No one had told me about this. I thought Mrs. Walker would always be my teacher. I was not happy. But, she and my parents convinced me that it wasn't fair for Mrs. Walker to keep me forever. Someone else needed a turn. That, I could accept.
First grade ended in May 1969. A few weeks later, Neil Armstrong walked on the moon. A few weeks after that, Mrs. Pauley was my new teacher.
The years at Burke Street Elementary were the most formative of my life. And the simplest.
Life would never again be that fun and easy. Oh, to be able to go back and relive just one of those days.
Mother Alphabet. Math. Lunch. Recess.
Crayons. Husky Pencils.
Education today has little resemblance to learning in 1968. Kids need less cramming for one or two big tests a year, and more Mother Alphabet, lunch, and recess.
Let's all pray for the kids these days. They need it.
And a fresh box of crayons and some Husky Pencils couldn't hurt.
©2021 John Moore
To send John a message; buy his books, Write of Passage: A Southerner's View of Then and Now Vol. 1 and Vol. 2, or listen to his Weekly 5-Minute Podcast; visit his website at TheCountryWriter.com.