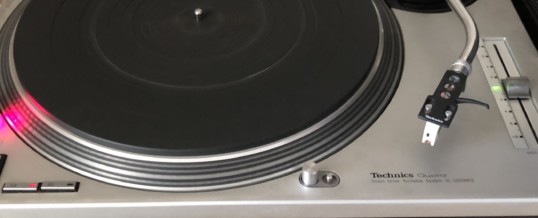 There are certain items that remind me of my grandparents. Some items I see, others I inherited.
Formica Dinette sets and tabletop radios are on that list.
It takes just a glance at something in the background of a television show or something at a flea market, garage sale, or antique shop, to send me way back in my memory banks.
As a younger person, you associate specific items with previous generations. But, it would seem that now that I'm the grandfather, some of the things from my generation no longer belong to me – they're making a comeback with the current group of young people.
Let's start with vinyl records. For years, every time I moved to a new home, I would swear that I was going to sell my record collection. The threat to sell later gave way to a promise to give it away. But, I kept them until about five years ago.
I had a couple of thousand albums. The older I got, my desire to keep them was outweighed by my desire to stop moving them.
Eventually, I sold most of my records to a friend. He was telling me that vinyl was making a comeback. I told him not to forget to come back and get the rest of them.
Later, my CDs and cassette tapes would soon follow.
It's a little-known scientific fact that women have a 20-year purge cycle. Every 20 years or so, they make you purge all of your stuff.
Her: "When was the last time you listened to this Brenda Lee cassette?"
Me: "Hey, where did you find that?!"
Her: "Get rid of it."
We had a garage sale and I sold the rest of the vinyl, CDs, and cassettes. That was also a few years ago.
But, my buddy was right. Somehow, shortly after he bought my records, vinyl did make a comeback.
Now, don't get me wrong. I love records. Vinyl does have a nostalgic warmth to it. It's also kind of neat to play vinyl. But, the truth is, inventors tried for years to take the work out of vinyl.
Remember the record players where you could stack several different albums on top of each other and when one finished playing, the needle would move out of the way and another one would drop?
That was the earliest attempt at an iPod.
Listening to music on vinyl was work, and you could only listen to it at home (oh, there were a few models made to play 45s in a vehicle, but no one I knew was rich enough to have one).
Cassettes made more sense for a car. The tapes were small, and if you had a decent enough player they sounded fairly good.
Now, old cassettes are also becoming collectable. Not only are the old ones selling online, some current artists are releasing new music on cassettes.
According to the Daily Mail.com, a site connected to a British newspaper, almost 50,000 albums on tape were bought in 2018, which is more than a 125% increase over the previous year.
DigitalMusicNews.com, based in Santa Monica, California, reports an even larger increase of more than 136% between 2017 and 2018.
But, why?
For some reason, the members of each generation think that they missed out on what happened before they arrived.
I can remember watching Happy Days and thinking that my dad and mom were lucky to have lived during that era. I envied my grandparents for being around when fast-talking gangsters were in the movies, Art Deco was in, and men wore double-breasted suits and Fedoras.
For the most part, we can't have the past. But, the current generation can have vinyl and cassettes. And they're buying them. What does that hurt?
Nothing at all.
I just wished I'd hung onto my records and cassettes for a little bit longer. The money I would have made off of them would easily pay to restore my Formica dinette set and tabletop radio.
©2019 John Moore
John's book, Write of Passage: A Southerner's View of Then and Now, is available on Amazon and Barnes and Noble. You can reach John through his website at www.TheCountryWriter.com.