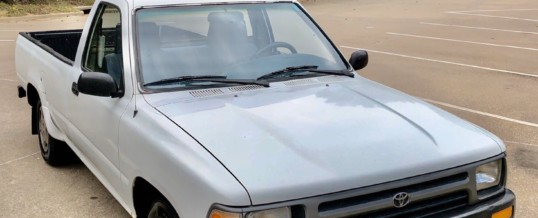 He almost didn't get it. It took him three years to wear the man down, but my dad finally talked him into selling the truck.
It wasn't a common pickup. It was long and boxy. That likely made it even more desirable to my dad.
The truck was a small Toyota long bed with a four-cylinder engine and an automatic transmission. Many of those models had a stick shift and a six-cylinder.
Think Marty McFly's tricked out truck in "Back To The Future."
The truck my dad bought wasn't anywhere close to that loaded when it comes to options. It was basic. But he wanted it. And when my dad made up his mind about something, he'd stay on it until he got what he was after.
The man who owned the truck also owned the Toyota dealership. The truck was his delivery vehicle.
My dad would stop in every now and then and try to buy the truck. One particular day, the dealership owner made the mistake of telling my dad that he wouldn't want to give what he'd have to have to sell it.
Dad said, "That's when I knew I had him."
He drove the truck home. That was 1995.
About that time, my dad retired and my parents moved near the lake. My father fished (I'm not exaggerating) three times a day. He kept his rods and reels and tackle boxes in the back of that truck so that he was ready to fish whenever the urge hit.
The truck became an extension of him. He drove it everywhere.
As he got older and his health began to fail, he drove it less and less.
One weekend I was visiting and working on his riding lawnmower.
"Pop, the mower battery is dead," I said. "Where are the keys to your truck? I need to go get another battery."
"Hanging on a nail on that wall," he said.
Later that night after I'd fixed the mower and cleaned up, my mom took me aside and informed me that that was the first time he'd ever let anyone else drive that truck.
When my dad passed, my mom drove the truck, but not very often. Honestly, it sat under the carport most of the time. That's never good for a vehicle. The longer a car or truck sits, the more things begin to go wrong with it. It needed a lot of work.
One weekend when I was up helping my mom move, she gave me the truck.
As I drove it down the interstate past the exit where my father used to turn to go to work, I got a little misty. I vowed to bring the truck back to as close to new as I could.
I've restored a lot of vehicles, but none have brought me the level of happiness that this week's finishing touches did on my father's 1992 Toyota truck. It was his pride and joy.
I can't bring him back, but I certainly brought his truck back.
He'd be proud.
©2019 John Moore
John's book, Write of Passage: A Southerner's View of Then and Now, and his new book, Write of Passage Volume II, are available on Amazon and on John's website at www.TheCountryWriter.com.