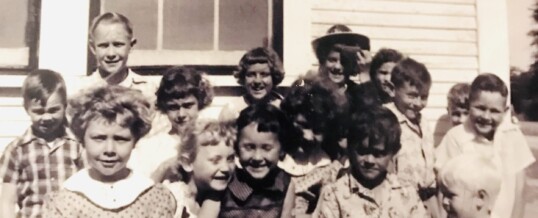 When the weather was cool and the sky was clear, our mother led us to the backyard and put out blankets.
My sister and I called them, "Star Nights." And they were special.
In the mid 1960s there were no video games, social media, or 24-hour children's TV channels. Families had each other. And our mother always made sure that family time was special.
My dad worked hard. He left early and worked all day. He'd pull his 1952 Chevrolet pickup into the drive, open the screen door, and announce his arrival.
After we ate a supper of fried potatoes, biscuits and gravy, and chicken or beef, we'd all watch Red Skelton, The Wonderful World of Disney, a variety show, or another now classic program that one of our three channels offered.
We were a family. We did things together.
But on star nights, dad stayed inside and mom took us out to the lawn, where we carefully lined up our blankets. One for each of us, with two extra in case we got cold.
Star nights were simple. We'd lie on our backs and stare from star-to-star. Mom would point out the Big Dipper, the Little Dipper, and the Milky Way.
As we would look at the billions of lights, our mother would tell us to start counting, and challenge us to see who could count the most.
Mom told us of her youth, a time when she also stargazed, and the recollections she held dear.
She often told the story of being pushed from the barn loft on the old family homestead. She was two years old and afraid to jump like the other kids were doing. So the neighbor boy pushed her.
Sometimes, her stories were accented by a shooting star, which glided between the twinkling pins of light before fading into the darkness.
As the temperature began to chill, mom would pull blankets over my sister and me.
Our mother's warm voice, the cool night air, and the blankets tucked under our chins made us feel as if there was no safer place in the world.
We asked our mother questions about what it was like growing up. She talked of her mother and the things our grandmother did for her and her five brothers and sisters. How laundry was done in a wash pot in the yard. Water was drawn from a well. Light came from coal oil lamps, and heat from a wood stove.
The night would darken as the world turned further from the sun. The stars seemed to dance. And I was certain that there were more of them each time we looked toward the heavens.
Mom stopped her story and asked if we had counted all of the stars yet. We would laugh.
We asked her to keep telling us stories.
She talked of walking to school. It was a one-room school in Fomby, Arkansas, just a few miles from Ashdown, where my sister and I were both born and raised.
Mom and her twin sister were the only ones in their grade. Their older sister had skipped some grades because she was smart. All six grades learned and ate together.
Mom talked about the lady who cooked the meals. Ms. Lilly knew what each child liked, how they liked it made, and how much of it they wanted to eat. Mom said the children would argue over who got to help Ms. Lilly wash the dishes. That's how much they loved her.
My sister and I listened intently. Mom's stories made us feel as if we'd been there with her.
It got cooler.
Mom said it was time for bed and that we had to go in. We begged for a few more minutes.
The quiet returned and we looked back to the sky.
The time never moves slow enough when you're a child and doing something special. But these few minutes, on nights so very long ago, have earned their keep. The details are still clear, the stars are still bright, and my mother, who means everything to me, is still here.
Happy Mother's Day, mom. The stars still shine brightly for me, because of you.
©2022 John Moore
John's new book, Puns for Groan People, and his books, Write of Passage: A Southerner's View of Then and Now Vol. 1 and Vol. 2, are available on his website – TheCountryWriter.com, where you can also send him a message and hear his weekly podcast.