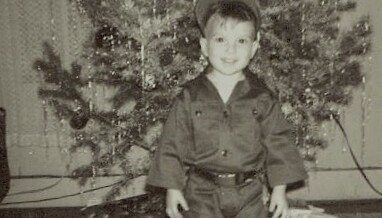 It wasn't so long ago that people who could afford to decorate the outside of their house were limited to a few strands of Christmas lights. Sometimes, it was all they could afford. Other times it had to do with a dad's patience.
Today, people put up light shows that shine all over their house and front yard that are timed to music, and can often be tuned in on a car radio by those who drive by to see the show. People spend a lot of money, time, and effort to create something fun.
When I was a kid, we drove the Buick by the handful of houses that had any lights at all.
If you're young, you've never experienced the post-Thanksgiving joy of helping your father drag the string of Christmas lights out of storage and plug them in with the hope that they'll all come on. Because if they didn't come on, you got to hear a string of something else.
You see, Christmas lights used to be an all or nothing proposition. If one single bulb didn't work, the whole strand didn't work. I never understood this, but I did understand that if the lights didn't come on with the first try, I was going to spend the rest of my holiday weekend helping my dad find the dead light bulb.
Actually, I should say light bulbs. Due to their fragility, the filaments in each bulb could easily be bumped, causing more than one to no longer work. So, it might be more than one light bulb that was out, which meant an even longer weekend trying to narrow it down to the bad bulbs.
It was through this experience that I learned that men aren't nearly as excited about holiday decorations as women are. The simple reason for this is that the men have to deal with non-functioning lights and other holiday decorations. The ladies are there to tell the men that some of the light bulbs aren't working.
We also didn't have a Wal Mart or other store to drive to and buy replacement bulbs. Dads would rob bulbs from other holiday strands that had stopped working during previous Christmas seasons.
There was no bulb tester, so it was hit and miss.
You could tell how dedicated a dad was to a display of lights at any given house by the gradual reduction in number of strands hanging out front over the years. In 1966, there might be five strands of red, blue, green, white, and yellow lights hanging from the roof. By 1970, there might be one.
That's why dads liked hanging Christmas stockings. Nothing to break, stop working, etc. You just take them out of the storage box, dust them off, and hang them up along the mantle on either side of the chimney. Also, moms sewed or glued on the name of the kid who owned each stocking, so there was no confusion about the order in which they should be hung. Oldest to the youngest. Left to right.
Another reliable Christmas decoration was tinsel. I don't see tinsel much anymore, but we used to put it on our Christmas tree each year. And lots of it.
It came in boxes, and each kid got a box or two and was told to put it on the tree while the dad said things under his breath while trying to get the lights to work. You could tell that the youngest kids were in charge of the lower limbs. The tinsel generally looked better as it went up the tree.
Moms also made popcorn so that kids could sew strands of it together to hang on the tree, once they finished slinging the tinsel. Youngsters would spend hours running a needle and thread through kernel after kernel.
Popcorn seems to have gone the way of tinsel. That's too bad.
Children also would make Christmas decorations in school and Sunday School. Many of the decorations were made from different colors of construction paper, which also decorated the tree.
One fairly universal decoration were the loop rings, which were cut out in strips and then secured together by LePage Glue. That was the glue in the glass bottle that had a bendable rubber tip as an applicator.
Other decorations might be constructed from cardboard boxes or whatever else teachers and parents had easy access to. You didn't need a lot of money to make Christmas decorations, just a lot of family time and imagination.
And that was what made Christmas, Christmas. Dads struggling to get the lights all working. Moms pointing out which bulbs didn't work. Kids throwing tinsel, sewing popcorn strands, and gluing construction paper loops.
Sure, it's easier and prettier to buy a light kit and put it up out front, plug it in, and stand in the living room and watch cars drive by and look at your house. But seeing children build a nativity scene in Sunday school and proudly display it under the tree is the point of decorating for the holidays.
For He is the Reason for the Season.
©2021 John Moore
John's new book, Puns for Groan People, and his books, Write of Passage: A Southerner's View of Then and Now Vol. 1 and Vol. 2, are available on his website – TheCountryWriter.com, where you can also send him a message and hear his weekly podcast.