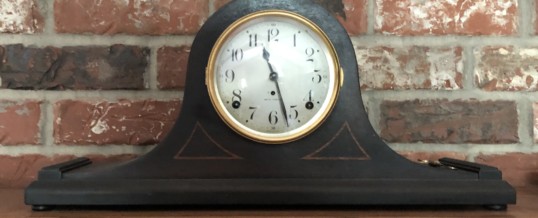 Canton's First Monday Trade Days is one of the largest flea markets in the world. And it certainly is one of, if not the oldest in the country.
Its origins date back over a century and a half. In the 1800s, Canton, Texas, was a gathering place to trade horses and livestock.
Today, there's still some of that, but you can also buy just about anything else.
And I do mean anything. Estimates say the number of vendors covers a total of about 28 miles.
But the Canton I grew up with no longer exists. What once was a relatively small area of mom and pop stands that sold a wide array of mostly antiques and junk items, has turned into a gigantic landscape of mostly retailers.
I'm not here to say that the Canton of today isn't as good as it used to be. But I am saying that it is very different.
From 1968 until the mid-1980s, my family traveled almost monthly from Arkansas to Canton, Texas.
My grandfather was a blacksmith in Ashdown, Arkansas. Like his father before him who was also a blacksmith, he needed materials to ply his trade.
Steel and iron were essentials, as was coal for his forge. He needed new hoe, shovel, plow and other handles to replace broken ones that had been brought to him for repair by farmers and other local residents.
All of these things could be found and either purchased or bartered for in Canton.
Every now and then, my grandfather would set up his own booth for Trade Days. But mostly he would drive his big blue GMC Pickup with a camper shell to buy what he needed and bring it home.
It was in the late 60s that my dad started tagging along with my grandparents and taking my mom, sister and me with them. I believe that this was the beginning of my affection (my wife would say affliction) for what I call, "Junking."
Those of us who enjoy flea markets, garage sales and estate sales are called many things. One of the most common terms is, "Junkers."
I'm good with that.
There's no better way to spend a day than to roam through tables full of random items and find something you need (or as my wife would say, don't need).
My grandfather traded with the same people. There was the man who sold mostly plow shears. His stand was at the top of the hill by the cemetery near the burger stand at the south gate.
Another older couple he bought random items from were always located down a hill from there. They had the rare spot that offered shade. We often lingered there in the summer with a lemonade from the stand across the aisle.
The Canton of old didn't change much, and a handshake was everyone's bond.
You always knew where to find the booth of the man who sold and repaired clocks.
And if you brought your clock to him for repair, you knew you could trust him to return with it the next month. Your mantel clock or other time piece would once again be working properly, and the price you were quoted was the price you payed.
Today, can you imagine giving a priceless family heirloom to someone in another town and trusting them to bring it back to you the next month?
Ironically, after I moved about 45 minutes from Canton in the late 80s, my trips there became less frequent. College, work and raising a family made extracurricular activities difficult.
Living near there has made it easier to make the trip when I do go. But it's not the same.
Again, I'm not saying that it's better or worse – it's just different.
The mom and pop stands who sold their wares on folding tables under a tree near a lemonade stand are pretty much gone. So are most of the people who used to travel with me to visit them.
But when I do go to Trade Days, I seek those out who have the family booths. I wonder if maybe they might be the grandchildren of the older folks I once knew, carrying on the family tradition of selling their wares to make a buck.
The clock man is long gone, but I still have the mantel clock he sold my parents for the princely sum of $50 in the early 1970s, and then repaired for them in the 1980s.
My quest now is to find his grandson, if he has one. I'd like to tell him that it's still keeping time just fine. And thank him for the memories.
©2019 John Moore
John's book, Write of Passage: A Southerner's View of Then and Now, is available on Amazon and Barnes and Noble. You can reach John through his website at www.TheCountryWriter.com.