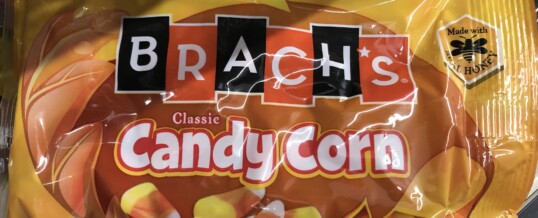 Candy corn is the fruitcake of Halloween candy. There are people who say they like candy corn, but I don't believe them.
If candy corn is that great, why do people only buy it once a year?
Same for fruitcake. People give them as gifts during the holidays, but I think they're gifts for people they don't like.
Wife: "Honey, what do you want to give the Johnsons for Christmas?"
Husband: "Give them that fruitcake we got from them last year."
Wife: "I thought you liked the Johnsons."
Husband: "Not since they gave us that fruitcake."
And, if someone does serve fruitcake as a choice of desserts, there's almost none ever taken and put on people's plates. The pecan pie, chocolate pie, and divinity candy are gone, but there sits the fruitcake like a gallon of almost-expired milk staring hopelessly out of the cooler at the customers at the Piggly Wiggly.
Candy corn and fruitcake are like Dracula and Keith Richards. They never age. I believe that there are only 10 bags of candy corn and five fruitcakes, and we all just keep passing them around.
Since no one actually eats either one, we need to find uses for both. I propose that we use candy corn to fill nail holes where pictures used to hang on the walls, and fruitcake would make an excellent doorstop or roofing material.
As a matter of fact, I may be on to something. Fruitcake could be the roofing material of the future. Pimento loaf lunchmeat previously held that distinction.
People who love each other don't give fruitcakes as gifts, and anyone who remotely likes children should not give them candy corn at Halloween.
Look, Halloween is one of the big deals of childhood. It's the holiday of the year when you're not relegated to the little table to eat. You get to dress up as anyone you want, and then go beg for candy. A tradition which dates back to the 16th Century in Scotland, Ireland, and England.
I don't know who came up with Halloween, but I bet it was a 16th Century mom.
Kid: "Mum, what will we eat tonight? I'm tired of mutton and pudding."
Mum: "Well, if you don't want that, go visit the neighbors and threaten them if they don't feed you."
Father: "And what about me?"
Mum: "Eat some of that fruitcake the Johnsons gave us last year."
When I was a kid, we often made our own Halloween costumes. Actually, our mom did. We didn't always have the money to buy a plastic Batman costume that was highly flammable and made your face sweat. Those years, we went as a ghost, using an old sheet.
There's nothing wrong with Trick or Treating in a sheet. Well, there maybe one exception to that.
A neighbor kid I knew also went as a ghost one year. I don't think his parents liked him much. They didn't cut eyeholes in his sheet.
But, we made do. After donning our sheets, we'd grab a grocery sack and head out into the darkness and start knocking on doors. And people always gave us great candy. A lot of it was homemade. Of course, you wouldn't want your kids eating homemade candy today, but store-bought candy can be great. You just need to make sure you don't go all cheap on the kids.
Head to the store, grab a buggy, and shop the good candy aisle and look for the big bags. The ones that have real chocolate and legitimate treats. Do not, under any circumstances, buy candy corn. It is not a real treat.
Today, parents blow a lot of money on costumes and gasoline to drive their tots around in the SUV. If we're going to make it worth a kid's time, let's get some good stuff to give away.
If the children do receive candy corn while Trick or Treating, save it for leveling the little table at Thanksgiving and Christmas.
No, candy corn is not a legitimate treat for Trick or Treaters. If you can't pony up the dough to give the neighborhood kids some Snicker Bars, M&Ms, Chick-O-Sticks, or a candied apple, then I'm putting you on the list for a fruitcake this Christmas.
It's the one the Johnsons gave us last year.
©2021 John Moore
John's new book, Puns for Groan People, and his books, Write of Passage: A Southerner's View of Then and Now Vol. 1 and Vol. 2, are available on his website – TheCountryWriter.com, where you can also send him a message and hear his weekly podcast.