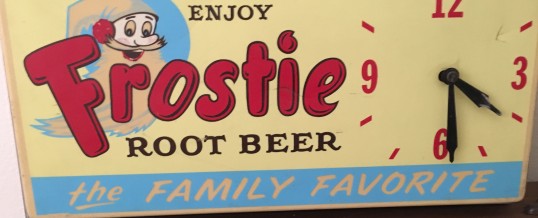 Before Wal Mart and its supercenters, there were corner stores. A typical corner store was locally owned, small, sparsely stocked with kitchen and other household essentials, sometimes selling gasoline, and was located near or in the middle of a neighborhood.
In my hometown, we had Puckett's Store and Withem's Store.
Both were located on Highway 32, with the former on the edge of town and the latter closer to the center.
My family traded primarily with Mr. Withem. Hindsight, that choice had a lot to do with proximity. Withem's Store was walking distance from my grandparents house, and was near the clinic, drug store, and other locations my family frequented.
I recall Mr. Withem as a thin man who, like many of his age in that era, went out of his way to be especially kind to children.
With my sister and I in tow, my mother would frequently stop at his store on the way home from my grandparents to pick up a pound of bologna and other items.
As we waited for Mr. Withem to cut the whole stick bologna into the thick slices my dad preferred, I would stare at the advertisements that were inside his store.
In that era, companies eagerly provided advertising items such as clocks, thermometers and neon signs that incorporated the name of the company and the name of the corner store. This provided free promotion for their products and free signage for the store owner.
For example, a sign on the door might read, "Come on in, it's KOOL inside." This would advertise KOOL Cigarettes while also promoting the fact that a store had air conditioning. A Grapette Soda thermometer might hang near the drink cooler. One or two round Coca-Cola signs might hang on the front of the building. Esso, Standard Oil signs, or Mobil Oil's flying Pegasus might adorn the gas pumps.
These items are now considered Americana memorabilia and are highly collected and can be quite valuable.
Withem's Store had a lot of these types of corporate advertising pieces, but what I remember especially well is the entire back wall of Mr. Withem's meat market. It was a mural of Elsie The Cow's family. Elsie was and still is the symbol for Borden's Milk. As he sliced our cold cuts, Mr. Withem's would ask me to name the members of Elsie's family.
Elsie was the mom, but can you name the dad and their children? Elmer was the dad (when he wasn't helping his wife sell milk, he had another job selling Elmer's Glue for the company's chemical division), and Beulah and Beauregard were their children. Later, according to some research I did on the web, Elmer and Elsie had twins named Larabee and Lobelia. The mural in Mr. Withem's store must have predated the twins. They weren't included.
After I had named off Elsie's family, Mr. Withem would hand my mom our pound of bologna, all neatly packaged and taped in white butcher paper. He'd ring up the meat, and usually a gallon of milk, a loaf of Holsom Bread and a bag of Frito's, thank us, and send us on our way.
After my family moved to another part of town, we began trading at Shurway Grocery, which was a few blocks from our new home. Owned by the Pope family, Shurway was bigger than a corner store, but not as big as a supermarket.
When I was older, I remember mom sending me on my bike to pick up the same pound of bologna and other items and being told to, "Put it on our ticket."
This was during a time when businesses could trust you to run a tab and pay them once a month. Shurway had a long board with slots, and the slots had springs that held each family's ticket in place. No debit cards, no checks, not even cash was needed. Neighbors trusted and did business with each other.
I still try to trade with locally owned businesses. It reminds me of people who supported my family when I was growing up, and it just feels a whole lot better than the self-checkout at Wal Mart.
©2016 John Moore
To read additional blogs, visit johnmoore.net/blog