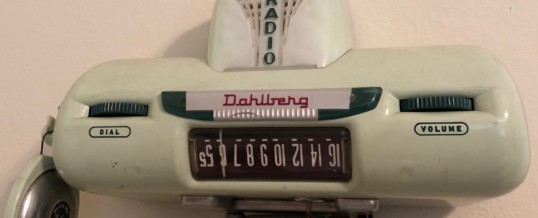 Mr. Harless' TV and radio repair shop wasn't on Main Street, but it wasn't far from it.
The hardware store and clothing shops took up most of the main drag through my hometown of Ashdown, Arkansas.
But, if you turned east off of Highway 71 on the street just before the city's sole flashing red light, you'd find Mr. Harless' fix-it shop.
He often was sitting with his back to the window as he worked.
In the 1960s, television was still fairly new and many folks still listened to the radio, so I would guess that Mr. Harless had the best of both worlds – older radios that needed repair, and newer TV's that hadn't quite been perfected.
My grandfather owned a blacksmith shop. He kept a desktop AM radio on a shelf by one of the doors. When he opened up for business each morning, one of the first things he did was turn on his favorite country music station on that radio. It played until he closed up in the afternoon.
My grandmother kept the TV on all day while she worked around the house and babysat. She loved watching her "stories" and game shows.
Today, we are used to a level of reliability in our radios and TVs that didn't exist back then. That much use of electronics caused capacitors to dry out and tubes to go bad.
That's where Mr. Harless came in. We could take him something for repair or he would make house calls.
I know that it seems silly now, but my sister and I didn't get out much, so it was a treat when someone came to our house for any reason. But it was especially neat when that person came to our home and disassembled something right in front of us.
We were one of the first families I knew of to get a color television. So, it was a double-edged sword when it went out. On the one hand, it was fascinating to watch Mr. Harless turn the big, RCA console TV around, take the back off, and start pulling parts out to test them. On the other hand, if the part that went out was one that required ordering, we could miss one, or possibly more, episodes of Red Skelton and The Wonderful World of Disney.
As radio and television sets began to migrate to solid state, they became more reliable. Consequently, they needed fewer repairs.
Later, the cost of a set became less than the cost of a repair.
This led to less work for folks like Mr. Harless. Eventually, his shop closed.
I miss these types of businesses and relationships. We still have them with plumbers, electricians, and the like, but it's rare that we rely on someone to fix our radios and TVs – especially the home owned, fix-it-shop owner.
Many of the younger folk don't even own radios or televisions. They listen to and watch what they want to hear and see on their cell phones or computers.
However, vintage electronics are making a comeback. Old radios, televisions, record players, and other sets are again finding favor – especially with the younger people.
I've kept many of my old radios. I'd love to have a console TV like the old RCA that sat in our living room on Beech Street. The same one that used to bring us Red Skelton and Disney.
I should order some of the old radio and TV repair manuals and a tube tester off of the Internet.
As a side job, maybe I could be the next Mr. Harless.
©2019 John Moore
John's book, Write of Passage: A Southerner's View of Then and Now, is available on Amazon and Barnes and Noble. You can reach John through his website at www.TheCountryWriter.com.