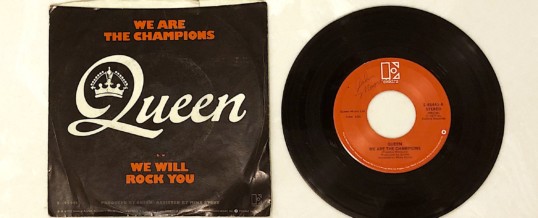 I would save money from mowing yards to buy the latest hit song I heard on the radio. Each 45-RPM record cost less than a buck, and instead of calling the radio station to make a request and hope that they'd play it, I could play my favorite song anytime I wanted.
On a 45, the "A" side was the hit, and the "B" side was typically a song from the artist's latest album that the record company didn't think would be a hit.
The "B" side was a throwaway song, if you will.
However, there were a few times that the record companies got it wrong, and the DJ's and the public got it right.
Such was the case with The Doobie Brothers, The Beatles, Queen, and other groups of my era.
In the early 1970s, Warner Brothers Records released the Doobie's single, "Another Park, Another Sunday."
If you've never heard of that song, don't feel bad. I used to be a disc jockey and I don't think I've ever heard it either.
However, the single's "B" side is one that you likely have heard – a lot.
"Black Water," was the group's first number one song, but it was never intended to be heard as a radio single.
It's writer, one of the band's guitar players, Patrick Simmons, wrote it from a riff he came up with on acoustic guitar. Unlike most rock guitarists, Simmons' influences of Dixieland music, Delta Blues, and other New Orleans-based sounds, led to his fingerpicking style on "Black Water." It was a style that didn't quite fit in with most rock tunes played on the radio during that time.
So, when "Another Park, Another Sunday" was issued as the group's next single, "Black Water" was put on the flipside of the record and sent to radio stations and record stores. "Another Park, Another Sunday" peaked in the 30s on the charts, and the record was all but forgotten.
Until one day the band and its manager received a call that they had a #1 hit single. "Black Water" had hit the top.
How that happened is something that could happen then, but could never happen today.
Forty years ago, radio stations were managed and run locally. So, the music that was selected was based on what management thought fit their format, thought their audience would like, and what listeners requested. Some stations also based their selections on what songs were selling well in the local record stores.
Today, most stations are automated, so there are no DJ's to call and ask to play a song. Consequently, the music you hear is limited to a small playlist that's picked by someone out of market.
"Black Water" reached number one because someone at radio station WROV-AM in Roanoke, Virginia, turned the record over. Instead of playing "Another Park, Another Sunday," they played "Black Water."
The listeners responded by requesting it. Repeatedly.
Another station began playing it, and its listeners also loved it.
When word got back to Warner Brothers that the song was getting lots of airplay, they released "Black Water" as a single. While the Doobie Brothers were on the road, they got word that they had their first number one hit.
The radio station and its listeners knew what they liked – and they prevailed. But, this wasn't the first time this had happened.
In 1956, Elvis Presley's, "Don't Be Cruel" was issued as a single. The flip side was a little tune called, "Hound Dog."
In 1961, Ricky Nelson had "Travelin' Man" on side "A", and "Hello, Mary Lou" was on side "B".
The Beatles had several 45s that had hits on both sides. "Come Together" came out as a single in 1969, and the "B" side was the song, "Something."
Written by George Harrison, "Something" was cited by Frank Sinatra as one of the best songs ever written. I agree with Old Blue Eyes.
John, Paul, George, and Ringo had many other two-sided hits. "I Want To Hold Your Hand" and "I Saw Her Standing There" were on the same piece of vinyl in 1964. That same year, "I Feel Fine," and "She's A Woman," were released.
"We Can Work It Out," and "Day Tripper," came in 1966. And "Penny Lane" and "Strawberry Fields Forever" were released together in 1967.
The Beatles likely have more double hits than anyone else. It's also worth noting that after the band broke up, Harrison had a double hit as a solo artist, with "My Sweet Lord," and "Isn't It A Pity."
The list of artists who had side "A" and side "B" hits is long and surprising. Even the Monkees did it with "I'm A Believer" and "Steppin' Stone," in 1966.
The list is long, but some of the other artists include: Roy Orbison, Fats Domino, Ray Charles, Johnny Mathis, Chubby Checker, The Platters, Pat Boone, Aretha Franklin, and Sammy Davis, Jr.
One of the biggest-selling rock 45s of the late 1970s that's still played on radio today is "We Are The Champions" and "We Will Rock You," a double hit from 1977 by the group Queen.
I still have my copy. My name is scrawled on the label in the low-grade penmanship that only a 15-year-old American boy could produce.
I'm sad that young people today download all of their music. There was something magical about saving your money and making your way to a music store to buy the exact song you wanted.
The journey home was one of anticipation. Thoughts of dropping the needle onto that record for the first time brought a smile.
Once home, you could listen to it over and over if you wanted – that day and any other day afterward.
And if you wanted to sample something new, there was always the flip side.
©2019 John Moore
John's book, Write of Passage: A Southerner's View of Then and Now, is available on Amazon and Barnes and Noble.
Email John at John@TheCountryWriter.com.