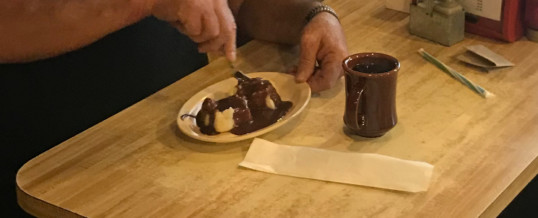 (phone ringing)
Me: "Hello."
Mom: "Did you know that your cousin Tina works at a restaurant that serves chocolate gravy?"
Me: "What? Where?"
Mom: "In Dierks. But it's only on Saturday mornings."
Me: "Please ask her to text me pictures. I need proof."
I politely ended the call and then proceeded to use my phone to map out what time I'd have to leave in the middle of the night to be able to drive to Dierks, Arkansas, the following Saturday before they ran out of chocolate gravy.
I've expressed before my love of this Southern delicacy. If you grew up in Arkansas, Oklahoma, or Northeast Texas, it's likely you've had it, been offered it, or at least heard of chocolate gravy.
Southern Living has printed the recipe in their magazine. In the South, that's the equivalent of having a book added to the Library of Congress.
Made from sugar, flour, butter, Hershey's Cocoa, and milk, this warm chocolate fondue-like concoction was a breakfast reward from my youth.
If I made good grades or had been extra helpful around the house that week, my mom would bring out the cast iron skillet and make it for me. She'd stir the ingredients while she baked homemade biscuits in the oven.
Many of my childhood friends would want to spend the night at my house on Friday nights because they new they could sweet-talk my mom into making it.
But since I haven't had sleepovers at my mom's house since at some point during the Ford Administration, I haven't had chocolate gravy in years. On rare occasions since leaving home, my mom would make it for me.
I tried to learn to how make it, but my version came out more like something Ellie May on the Beverly Hillbillies or Mrs. Douglas on Green Acres whipped up.
So, to find out that a restaurant back in Arkansas is serving biscuits smothered in chocolate gravy is like finding an Andy Griffith episode you haven't seen.
It is a gift from above.
(phone dialing)
Mom: "Hello."
Me: "Mom, these pictures look legit. Have you eaten the restaurant's chocolate gravy?"
Mom: "No, but Tina says lots of people come in on Saturday and order it."
It must be the real deal.
So I talked to my cousin Tina and she vouched that's it was the real deal made by someone with a long family chocolate gravy pedigree and not some cook who grew up in the North trying to pull a fast one.
If you want to take a road trip for a heaping helping of some chocolate gravy goodness, set your GPS for Kenya's Restaurant In Dierks, Arkansas.
Wanda Kirkpatrick is back in the kitchen and is in charge of that sweet Southern recipe. I have it on solid authority and pictures to prove that it's for real.
If you can't make the trip, my mom was kind enough to provide her chocolate gravy recipe, which I've featured in this space before.
I'm case you missed it, here it is:
Chocolate Gravy:
1 cup of sugar
4 tablespoons of cocoa
1 teaspoon of self-rising flour
1/4 cup of butter
1 cup of milk
1/4 teaspoon of vanilla (optional)
Directions:
Mix sugar, flour and cocoa together, well.
Then add milk, butter and vanilla.
Bring to a boil. Reduce heat and cook on low until done to preferred consistency. Pour over hot, buttered biscuits (split in half) and eat with a fork.
If you're like me and cook like that critter-loving Clampett I mentioned earlier, let's carpool to Dierks on a Saturday.
Chocolate gravy over homemade biscuits. There ain't much better.
©2019 John Moore
John's book, Write of Passage: A Southerner's View of Then and Now, and his new book, Write of Passage Volume II, are available on Amazon and on John's website at www.TheCountryWriter.com.