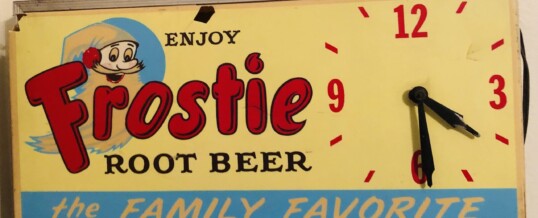 My grandfather was driving us back from Broken Bow. It was late on a Saturday night. At least it was late for me. My bedtime was usually 8 o'clock. It was at least 8:30, and I was tired.
My grandfather was a blacksmith. He went to Oklahoma each Saturday for an auction a woman named Barbara held. It was unusual for a woman to be running a business at that time. It was also unusual that someone was still a blacksmith.
Blacksmith shops require a certain amount of restocking. Iron, steel, coal, plow shears, tool handles, and other items are consumables for that business. Barbara's auction often sold all of them.
Typically, there was a carful that went. My grandmother, sister, cousins or others often filled the Chevy for the trip.
But one time out of all the Saturday nights he went to the auction in Oklahoma, I was the only one who went with him. No cousins, not my sister, or my grandma.
Just me.
I looked up to him. I was about nine.
As the pre-Interstate path home passed in the darkness, he asked me about school. How was I doing? Was I keeping my grades up? Did I have a girlfriend?
"Good, thank you," I said. "Yes, sir. And no, sir."
He laughed. Then turned on the radio.
He pushed one of the radio buttons. The sound of mechanical gears working turned the orange dial, and 650 WSM came in.
WSM, the home of The Grand Ole Opry.
That's what the announcer would always say. "The Home of the Grand Ole Opry."
My grandfather talked about how the radio had been the primary form of entertainment. Not everyone in his day could afford the movies, but the radio was available to most folks.
Looking out the window, the phone poles passed in time with the music on the radio.
"You ain't woman enough to take my man," sang the lady on the radio.
I asked my grandfather what that meant. He assured me that I was too young to need to know, and when I was older that I needed to make sure to treat women right.
"That was Miss Loretta Lynn on the home of the Grand Ole Opry, WSM, broadcasting from the music capital of the world, Nashville, Tennessee," said the announcer. Turned out, the announcer on the Opry was also a singer who hosted the show. I later learned that there were only a handful of members of The Grand Ole Opry, and the members were on the show several times a year.
My grandfather sang along with the songs. He knew all the words from listening to the radio in his shop. It sat on a shelf above the side door, next to the Frostie Root Beer clock.
As he would work, he walked from room-to-room in his shop, whistling as he went. His gray cap on, with a piece of soapstone in his shirt pocket, next to the ever-present package of Wrigley's Gum.
My grandfather quit smoking when he got saved and joined the church. He constantly chewed gum and always – I mean, always, had a kitchen match in the corner of his mouth. He chewed the matchsticks down to the sulphur.
I think chewing gum and matchsticks, and singing to the radio helped keep his mind off of wanting to smoke.
Music was a big part of my grandfather and me. We shared the Opry on Saturday nights and we shared hymns on Sunday morning.
This year, Lord willing, I will be the same age he was when we lost him. I think of him often, and miss him.
When we lose someone we love, all we have left are photos and memories. One of the memories I cherish is sharing the Grand Ole Opry.
I still listen to the Opry every now and then on Saturday night. I could listen to it online, with a clean and clear signal.
No. I choose to listen on an AM radio, so that it sounds like I remember.
Like it did back then on that one night. When it was just my grandpa and me.
©2021 John Moore
John's new book, Puns for Groan People, and his books, Write of Passage: A Southerner's View of Then and Now Vol. 1 and Vol. 2, are available on his website – TheCountryWriter.com, where you can also send him a message and hear his weekly podcast.