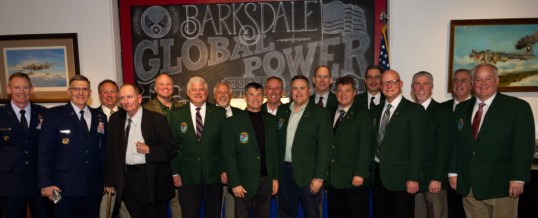 Photo: The January 18, 2020 reunion at Barksdale Air Force Base of members of the Secret Squirrel Mission. Columnist John Moore's friend, Warren Ward, is fourth from right.
There were only a handful of people in the world who knew what was about to happen. My friend was one of them.
When Saddam Hussein invaded Kuwait in 1990, a number of response options by the United States began to form in Washington, D.C.
Options that would send Saddam's Iraqi army back from whence it came using an aircraft we'd had for over 40 years, armed with missiles with a then-brand new technology that we now all take for granted.
It was in August of that year when the military operation 'Secret Surprise', but referred to as 'Secret Squirrel' by the few handpicked US military personnel who were a part of it, began to gel. With my friend Warren Ward handpicked to be part of it.
I've known Warren since first grade. We used to play on the playground together; played on the football team; and later played in bands.
We both grew up and graduated from Ashdown, Arkansas. When I saw him earlier in 1990 at our 10-year high school reunion, I had no idea what he was about to do.
I'm fairly certain, he didn't either.
After high school, Warren met an Air Force recruiter who offered to pay for his college in exchange for his military service. He took the recruiter up on his offer, which led to Warren's involvement in a military operation that is still studied by historians today.
During Secret Squirrel, Warren co-piloted one of seven B52 bombers that flew 35 hours, nonstop, from Barksdale Air Force Base in Louisiana to drop the first GPS-guided missiles used in warfare.
And with 90-percent accuracy, those missiles were the beginning of the end for Saddam and his intentions to occupy Kuwait.
Flying aircraft nonstop from US soil for a strike on the other side of the world had never been done before. But they did it. And they did it with an aircraft that last rolled off the line the year Warren and I were born.
Between 1952 and 1962, Boeing built 744 B52 bombers. During Secret Squirrel, seven of these bombers (which were then over 40 years old) were armed with missiles using the same technology we now have in our cell phones. But at the time, GPS was experimental.
Recently, 17 of the members of the Secret Squirrel mission held a reunion at Barksdale Air Force Base. Warren invited me.
It was held in the museum on the base and was attended by family members of those involved in the mission, two generals, two historians, and other dignitaries.
When I arrived and cleared security, Warren met me and we rode together directly to the gathering. I quickly met many of the men he'd flown with, and then he asked, "You want to see one of the planes?"
"You bet I do," was my answer.
I don't know what I expected as we entered the gigantic hanger, but I didn't expect to see an airplane that large. A B52 is over 160 feet long and the wingspan is even wider at about 185 feet.
Warren then offered to take me into the plane. That's accomplished by climbing a very small, three-rung ladder that hangs through a hatch under the plane near the front of the aircraft.
Making my way to the cockpit with him was arduous. It was dark and narrow. But once we got there, I was surprised by how small it was.
This monstrous aircraft he had flown all the way around the world and back in 35 hours, with no sleep, he had done from this tiny space with an array of control panels and narrow windows.
"How close was the plane that refueled you?" I asked.
"It was close," he said as he leaned his head back in his seat and looked through the window. "I leaned back like this so I could watch. It was close and it took 45 minutes to fill up."
We made our way to the ceremony. My mood went from excited to somber.
There were several rows of whiskey tumblers behind the podium. Four of those tumblers had red handkerchiefs in them. They represented the four men who'd flown the mission but are no longer with us.
I listened as those who took the podium spoke.
The general told the men what their successful mission had meant to their country. And how they had proven to our enemies that no matter where they are, we can find them.
The historian explained how he and others who analyze battles are still dissecting what they had accomplished.
And my friend Warren paid tribute to the four men who had been part of the mission, but are no longer with us.
Of those who flew the mission, 17 had made the trip that day. Wearing their green jackets with a Secret Squirrel patch sewn over the breast pocket, they all poured a small glass and toasted each other and the four who are now gone.
I was disappointed in myself that I didn't already know the details of Secret Squirrel and the role that my lifelong friend had in it.
But I left Barksdale Air Force Base that day with a renewed appreciation for Warren, and all of those who risk their lives so that our children can freely play on the playground, on the football team, or in bands.
God Bless America.
©2020 John Moore
John's book, Write of Passage: A Southerner's View of Then and Now, and his new book, Write of Passage Volume II, are available on Amazon and on John's website at www.TheCountryWriter.com.