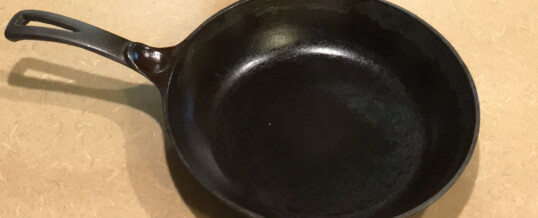 I thought the cast iron skillet my mom cooked virtually every meal in when I was a child was her favorite. I now know that she cooked with it because it was the only skillet she had.
That skillet represented how many families in small town America lived in the 50s and 60s – as simply and inexpensively as possible. The goal was to just get by.
Growing up in Arkansas as the child and grandchild of parents and grandparents who weathered the Great Depression, a normal meal meant one you had the ingredients to make.
My dad's father was a blacksmith. Often, during the summer months my cousin Roger and I would spend time with him and my grandmother. We helped him in his shop. At the end of the day, we were paid a quarter each.
Let me tell you, back then, 25¢ was a princely sum for a kid. We worked hard for that quarter, but most of the time, the work my grandfather assigned us was likely designed to keep us out of his way as much as it was to actually help him.
When it was time for dinner (in the South, Southerners call lunch "dinner" and dinner is "supper"), my grandmother would come through the front door and onto the porch to call for us to come and eat. We'd drop what we were doing and head to the side of the shop to wash up.
At the corner of our grandfather's shop's southern entrance stood a water spigot about 2-feet high. Screwed to the outside wall above the spigot was an old metal holder where he kept a bar or two of Lava Soap.
After ensuring our hands would pass the grandma test, we'd make our way to the house, remove our shoes, and head through the side door into the kitchen where we'd take our place at the table.
More often than not, dinner was made from leftovers. It wasn't uncommon to be served a plate of wienies and kraut (sour kraut), biscuits from breakfast, a slice of fresh onion from the garden, pickled beets my grandmother had canned from the previous year's harvest, and a piece of fried chicken from the last night's supper.
Wienies and kraut was something my mom made often in her skillet. Her mother made it too. Honestly, I don't remember anyone's mom who didn't make it.
A simple, inexpensive recipe, wienies and kraut are whipped up by slicing hot dog franks and then browning them in bacon grease. A can of sour kraut is then drained and added to the wienies. When the temperature is hot enough, you serve it.
Bacon grease was the most common food item in a Southern kitchen. I don't think it was ever made official in the South, but I'm fairly certain that bacon grease was considered a food group.
It was so common that virtually every kitchen had a metal or ceramic container next to the stove that said, "Grease" on it. Some of the wealthier folks had a filter in the top of their metal grease container.
Some called them, "bacon drippings," or "bacon renderings," but the fact of the matter was when you cooked bacon, you saved the grease. Because, virtually everything you ate was fried in it.
Eggs, potatoes, chicken, you name it – all were fried in bacon grease.
Today, doctors will cringe if you tell them you fry food in bacon grease, but generally speaking, grownups back then weren't overweight. And many of them lit up a Lucky Strike after they finished their bacon grease-fried food. But, that's another column.
Potatoes were also a versatile food that was served to us so many ways that I've lost count. I do know that we had fried potatoes, white gravy, and biscuits at every single meal – breakfast, dinner, and supper.
Even if we were having mashed potatoes and gravy, there were still fried potatoes available.
And bacon grease went into every loving bit of it.
When I left home, my mom gave me her skillet. Her mom had given it to her, and her mom gave it to her. That skillet is somewhat famous now. Ree Drummond featured it and my story about cast iron in "The Pioneer Woman Magazine" a few years ago.
But fame aside, I've yet to make wienies and kraut in it. But, I will. I just have to wait for this morning's biscuits and last night's fried chicken to age enough.
©2021 John Moore
To send John a message; buy his books, Write of Passage: A Southerner's View of Then and Now Vol. 1 and Vol. 2, or listen to his Weekly 5-Minute Podcast; visit his website at TheCountryWriter.com.