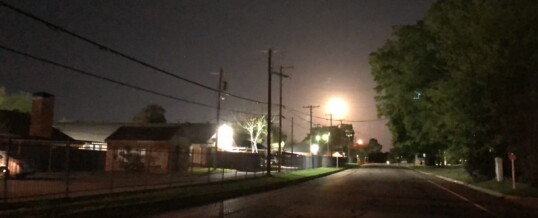 People who wake up early get it. The wee hours of the morning are the ones you can own, because most everyone else sleeps through them.
I didn't used to be a morning person. I can recall my father coming into my room, opening the blinds, turning on the light, and blaring my stereo as loud as it would go.
It was his way of saying that no son of his was going to sleep until noon on a Saturday.
When you're 16 years old, your main focus is trying to get girls to notice you. Your second focus is to sleep until noon on a Saturday.
My dad felt that even if I had nothing else on my calendar, I wasn't going to sleep in, regardless of the day of the week.
As he would say, "Son, you're wasting your life away. Get up, you're burning daylight."
Even after moving out on my own, I wanted to sleep the day away. And when I could, I did.
But in my early 20's, my job changed that. When I was eight years old, I decided that the radio business was where I wanted to be. By age 17, I was in the business. By 24, I was doing morning drive.
In television, actors want to be seen at night. A hit TV show doesn't air in the morning, the middle of the day, or in the afternoon. It airs at night.
Dallas, Falcon Crest, Gunsmoke, and All In The Family, we're hits in the evening.
But in the radio business, primetime is morning time. It's called morning drive. And it is the most coveted slot on a radio station.
But to do mornings on the radio, you get up early. Very early.
I would arrive between 3 and 4 a.m., make coffee, and begin producing my show. That included reading several newspapers, reading wire copy from the Associated Press, United Press International, and anything else I could get my hands on.
That anything else included contacting the police departments, sheriff's offices, and anywhere else that was open 24 hours.
That's how I discovered people of the night.
Those of us who work the graveyard and early mornings are a different breed. We are not cut from the same cloth as the rest of humanity.
You have to be different to successfully work hours like that.
And that includes having a different sense of humor. Invariably, those I would contact during the early hours would either save a joke for me, or rip off a funny line based on the conversation.
I said many times that the folks I talked to as I did my show prep were way funnier than I was and that they should have been the ones on the radio.
Also, they were a bit more dedicated than the rest of the world. Anyone who's willing to sleep when most people are awake, and work when most people are asleep is making a sacrifice. They want to be sure that the rest of us are covered while we slumber.
When I left early morning radio I didn't have to get up that early. And I didn't get up at 3 a.m., but I still arose at 4 to 5. Maybe that was out of habit, or maybe that's just part of the aging process, but it just felt normal for me. I felt as if I needed to get started earlier and that I shouldn't waste the day.
My father and mother had always been early risers. Dad had been up for hours when he rousted me out of bed at noon.
I didn't understand it at the time, but now I do.
I now get up around 3 to 4 a.m. Many of the words you read in this space were put on paper during those hours.
I get up, make coffee, and begin connecting with the world through the Associated Press, the police departments, sheriff's offices, and others.
Oh, I no longer drive to a radio station to do it; it's now accomplished through the Internet and social media.
But what I find is that even though technology has changed, the people who are up in the middle of the night haven't.
Many of the people with whom I used to connect are now gone, but those who've taken their place are decidedly cut from the same cloth.
Some are insomniacs, others are working, and others are like me. They just wake up early and feel the need to get the day going.
Recently, I covered an early task for a guy. He went on vacation and I volunteered to handle the 4 a.m. requirement.
I stopped at iHop on the way and broke bread with strangers, who conversed as if we'd always known each other. I said goodbye and continued on to my destination.
The morning was cool and the moon was large. Windows down, the damp breeze swirled through the car and tapped me repeatedly on the shoulder. As if to say, "Son, get going."
I pulled over and took a picture of the quiet street, with a moon that dominated the photo as it swelled with pride.
I wanted to remember this. I was back. Back with the people of the night. Back with my dad.
And I wasn't burning daylight.
©2022 John Moore
John's new book, Puns for Groan People, and his books, Write of Passage: A Southerner's View of Then and Now Vol. 1 and Vol. 2, are available on his website – TheCountryWriter.com, where you can also send him a message and hear his weekly podcast.