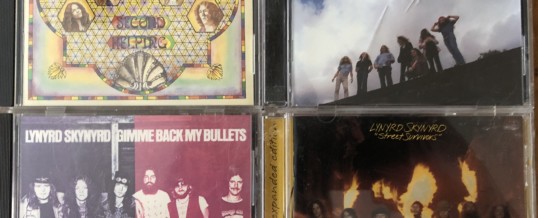 The original incarnation of the Southern rock band Lynyrd Skynyrd was on the national scene for only four years.
Let that sink in.
There are bands that have toiled for decades and never enjoyed the success that Skynyrd has.
The group that gave us "Sweet Home Alabama," a song that's still played often on the radio 45 years after it debuted and is one of the most downloaded songs in popular music, gained a national presence beginning in 1973.
Their rise to fame was fleeting. Fate intervened.
An October 1977 plane crash killed their lead singer, Ronnie Van Zant, guitar player Steve Gaines, and his older sister, back up singer Cassie Gaines. The band's road manager and both of the plane's pilots also died. Everyone else on the plane suffered severe injuries.
They were on their way to play a gig at LSU when the aircraft ran out of gas and crashed in a swamp.
Just days before, they had released a new album called, "Street Survivors" and were on a tour to support it.
But 42 years after the original line up left the stage, a new lineup of the band still plays their music and remains popular.
I believe Lynyrd Skynyrd's music is more popular now than it was when it was first released.
Recently, as I listened to their song, "I Know A Little," I asked myself, "Why?"
I used to play music on the radio for a living and I can tell you that most disc jockeys get very tired of hearing the same songs over and over. I thought about the fact that I have listened to every Lynyrd Skynyrd album on a regular basis for over four decades.
For a band to be so good that a former radio announcer still loves to listen to them says a lot about the band's work.
I go through cycles with classic rock. I get on a kick of listening to one band or another for a period of time before moving on to someone else. But Lynyrd Skynyrd is a band that I listen to constantly. I never tire of hearing any and all of their music.
I'm not alone.
There are Lynyrd Skynyrd Facebook fan pages, dedicated websites, tribute bands (lots of tribute bands), and just about any other thing you can think of to pay homage to what is arguably one of America's greatest classic rock bands.
That level of fandom is truly astonishing.
Because of the song, "Sweet Home Alabama," most people mistakenly think that's where the band originated. It's not. They were from Jacksonville, Florida.
"Sweet Home Alabama," was a double tribute to the State of Alabama for a couple of reasons. The band had recorded at the Alabama's Muscle Shoals studios in the early 1970s and they were tipping their hat to the musicians there.
But the song was also written in response to singer Neal Young's songs, "Alabama," and "Southern Man," which Skynyrd's lead singer Ronnie Van Zant felt wrongly accused everyone in that state and the South of being racists.
Ironically, Van Zant and Young were friends.
Sweet Home Alabama appeared on the band's second album in 1973. It has been included in at least 11 movies, and multiple TV shows. The music royalties on the song made its three writers wealthy.
Van Zant and guitarists Ed King and Gary Rossington wrote the song in just a few minutes during a rehearsal.
Rossington is the only living original member of Lynyrd Skynyrd who plays with the band's current lineup, which reformed in 1987. The band is currently on its farewell tour.
Over the years, I've listened to so many different groups, I've likely forgotten as many of them as I can remember. But, for a band to hold on to their fan's attention after almost 50 years, it's worth noting.
That's what I'm doing here.
Every generation argues that their music is the best, but I believe that those of us who grew up in the 60s and 70s definitely had the best bands. Not everything that was played on the radio back then was great, but most of it was excellent.
You don't ever hear anyone say, "Gee, you think KC and The Sunshine Band will ever get back together?" But, you do hear people say, "There's a Lynyrd Skynyrd concert this weekend. Wanna go?"
There are a handful of bands that I didn't have the chance to see back in those days. Lynyrd Skynyrd was one of them.
They're on my bucket list to see before their final tour ends.
"Lord, they get me off so much. They pick me up when I'm feelin' blue, now how 'bout you?"
Turn it up.
©2019 John Moore
John's book, Write of Passage: A Southerner's View of Then and Now , is available on Amazon and Barnes and Noble.
Email John at John@TheCountryWriter.com.